Sooooooo. . . New York Fashion Week. . .

So far, no particular collection has completely caught my eye (I'm waiting for Anna Sui, my usual favorite), but the makeup at Diesel Black Gold and the headdresses at Diane Von Furstenberg were beyond stunning.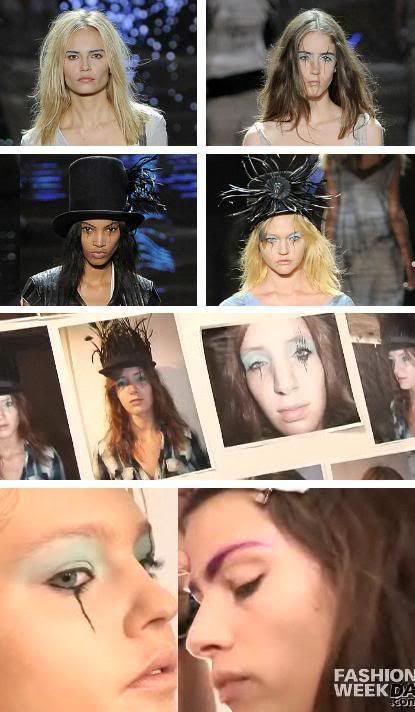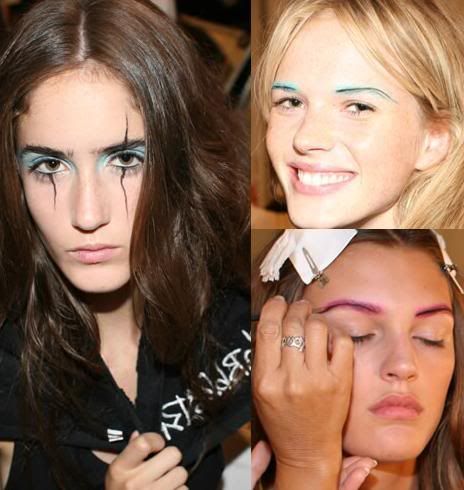 At Diesel Black Gold, makeup artist Val Garland explained the look. "It's very young. It's all about the eyebrow. There's a nod to Alice Cooper. It's all about magenta and peacock blue eyebrows."
I've always loved that scary circus clown pointed-line-through-the-eye thing, but the colored eyebrows take it above and beyond. I've never seen that before, and I think it looks fabulous. Very cool, very playful, very party-all-night. Love.
On a very different end of the spectrum, Diane von Furstenberg's models sported the most gorgeous fairytale headdresses.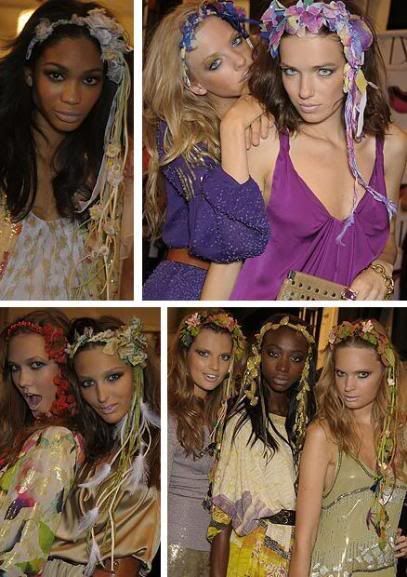 I love that these are floral without being at all "flower girl." The addition of the leaves, the feathers, and the strands of ribbons look like they should belong in A Midsummer Night's Dream, or perhaps in Neverland. Very unexpected, I think, from the woman who brought us bright wrap dresses in a myriad of graphic prints. I wonder if this new softness is just another short exploration into a part of Diane's large range, or perhaps a facet of her personality she has finally seen fit to share with us. Either way, I'm blown away.
Photos courtesy of Style.com and Fashionweekdaily.com, as well as the good cobrasnake man.