Hello, lovelies. These are my new kicks: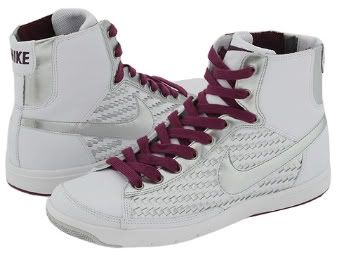 I found them on sale at Urban Outfitters, with my size just sitting there waiting for me. Since I've spent about five years wearing various Chuck Taylor All Stars, it felt like a good idea to switch it up a bit. So I did. The silver is more silver-y in real life than in the picture, by the way.
Anyway, I took some photos of them. You may think the girl in the photos looks like me, but I assure you she is not. She is named Danielle Jones. She likes to be called DJ, but most people call her Dani J.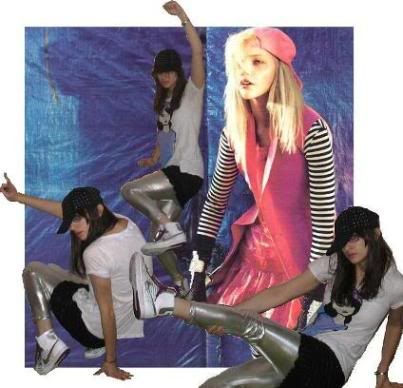 Her favorite activity is dancing, and she often dances instead of walking. Therefore, she dresses so she can move easily and well. Her favorite color is purple. She likes to stand out, and so above is quite a typical outfit; her signature Nike kicks, black-and-silver-striped Hot Topic romper folded to look like a skirt, Zara T-shirt, Wet Seal silver leggings, and a rhinestone-encrusted cap worn sideways.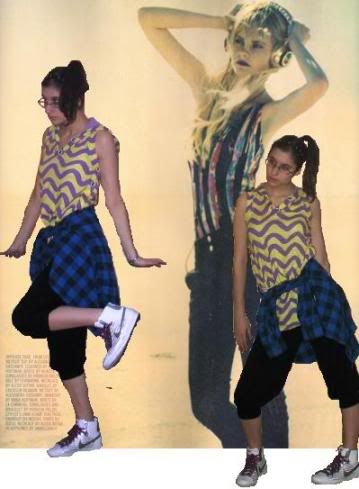 .
She loves standing out, which means lots of wild colors and patterns. Her idols are MC Hammer and Lil Mama. She abhors mp3 players and maintains that a big ghetto-blaster-style boom box is the only way to go. She often carries her boom box with her so she can dance. Above she is wearing a Zara tunic, Old Navy men's flannel shirt, Forever 21 pants, her signature Nike kicks, and a studded headband from Delia*s.
Fine, you caught me - DJ is today's alter ego.