I've had a denim jacket for years, and I almost never wear it. Sometimes I get jacket envy when I see cool girls wearing denim jackets on street style blogs, which is totally irrational because I happen to have practically the same jacket these girls are wearing. What I really envy is the fact that, unlike me, they actually wear the jacket. I appear to lack this ability. When I see these girls wearing flannel and denim it looks great, but somehow, standing in front of the mirror in the morning, the pairing doesn't quite have the same flair. On me, it looks plain and easy. I'd rather wear flannel and my leather jacket if I'm going down that route, because at least leather has a bit more of an edge. So the jacket hangs from its hook (or, to be honest, lies crumpled on my floor somewhere) and is rarely taken out for a spin.
What I'm getting at here is that I think I need to make some changes to my denim jacket in order to actually wear it. My first idea on the subject was studs - I mean, you know I love me some studded denim - but that feels so done these days. I see that everywhere. Ditto chopping off the sleeves and making the jacket a vest. Ditto bleaching it. So what's to be done? I dipped into my inspiration folder and emerged victorious! Check out this lovely little jacket: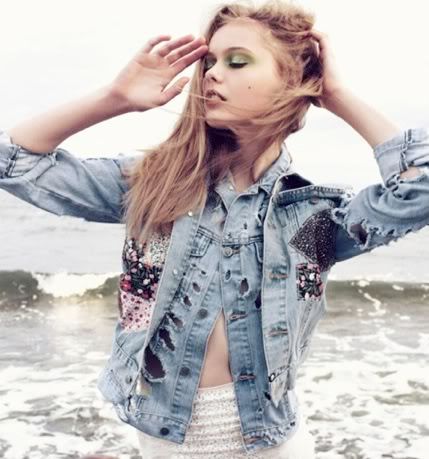 I believe the model is actually wearing a patched vest over a torn up jacket, but it's the combo that gets me. I love the ditzy florals and the way the rips temper the girliness factor. I think something similar could even be done with lace, although I really am partial to the floral prints.
However, if I lose my nerve when it comes to making such a feminine addition to my jacket, I think I could make a slightly punkier compromise.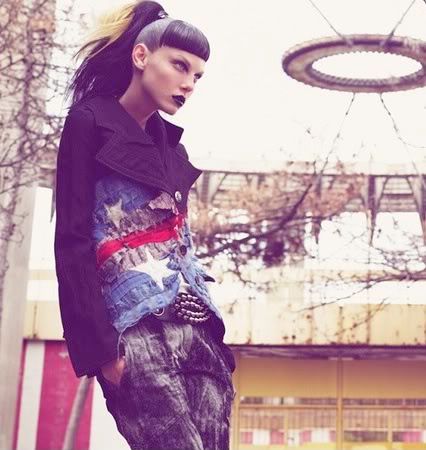 Now don't get me wrong - the jacket is staying a jacket. I can't quite tell what is going on in this picture - it appears that either there is some kind of denim corset or the denim is actually cut into strips and attached to a blazer - but I'm not really concerned with the details. I like the ragged, contrasting strips of fabric and even the lopsided stars.
I've been home from school for about a week, and I'm getting fairly bored. I think it's about time for a new project. Denim jacket resuscitation time, perhaps?