Hi darlings!
I'm sorry it's been so long since I've written. I have no real excuses, but I've been spending my time adjusting to the college lifestyle, pulling some good grades, making some good friends, and trying out slam poetry. You know how it is. Now that it's winter break, I'm determined to be a better blogger. So here goes.
On Saturday I had the opportunity to meet some other Boston-based fashion bloggers at a mixer run by
PunkyStyle
,
New Brahmin
, and
Jen Loves Kev
. We kicked off the event by mingling at
Luna Boston
, drooled over some handbags that will be for sale in the spring, did some shopping on Newbury Street, and gathered back at Luna to raffle off some fun items and mingle some more. It was a pretty good time.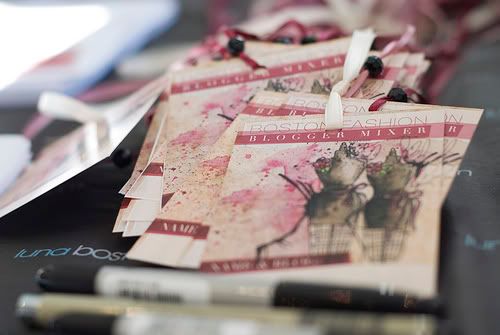 Even the name tags were fashionable.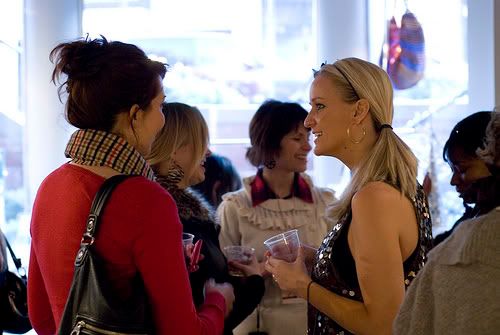 Everyone was really nice, not to mention super stylish. I immediately felt underdressed in my black dress and red flannel.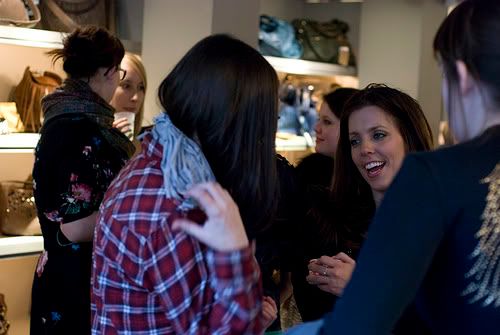 I did, however, manage to add to my outfit with a fringed jersey scarf I picked up at
Lit Boutique.
I got a bit tongue-tied when discussing my new purchase with Amy of
Punky Style
and managed to inform her that she was creepy (she isn't.) It was not one of my finer moments. Lesson learned: try to avoid minor freak-outs when meeting long-admired bloggers. I'm pretty sure I made quite a fool of myself in front of Kristina of
Dreamecho
as well...she had the absolute coolest creepers and pixelated leggings and draped dress, and when she made it clear she had read my blog I'm fairly certain I grinned and screeched like an idiot while staring intensely at her shoes. Not exactly the impression I was hoping for.
It was too cold to take pictures of my entire outfit when I thought of it, but I liked the look better with my coat on anyhow. I picked up the coat just the other day; it's Laundry by Shelli Seagull. I'm also wearing spiderweb tights by Betsey Johnson, Payless leather ankle boots, a studded purse from Kofuku Gift Shop in Harvard Square, a scarf from Lit Boutique, and an H&M flannel shirt. Not pictured: A black H&M dress.
It's good to be back. I'll keep you posted on all my fashion-related musings for the break if I can; I'm turning 20 on the 20th, so at the very least I'll let you know what I was able to grab from Rodarte for Target. Being completely excited for the Rodarte collection, I have already used my Birthday Girl sway to enlist a friend to brave the Christmas crowds with me in the early morning. I have my eye on a slip-inspired skirt, a certain dress, lacey cardigan, some cute legwear, and whatever else draws me in. Hopefully the clothes will be less disappointing than Anna Sui for Target; I've been hearing good things. Fingers crossed!