Today, as I was walking around the sculpture park at the DeCordova Museum with my family, I stopped to pose with a statue for my own personal amusement. My dad whipped out his Blackberry to snap a photo, and it suddenly occurred to me that I haven't done an outfit post in a while. I was wearing my basic winter uniform of flannel, jeans, and boots, but I asked him to take a photo of the look for my blog so I can at least give you an idea of what I've been wearing these days. It's my version of sweatpants - cozy, comfy, and easy - but less frumpy.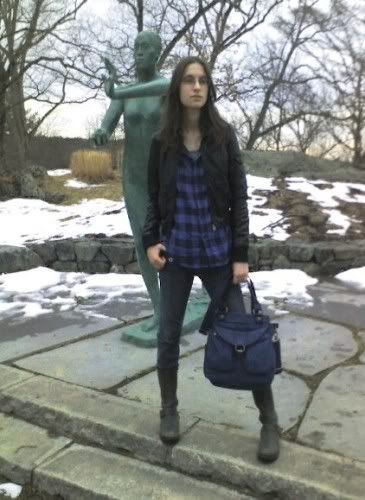 Not the best quality, but there you go. I'm wearing a men's flannel button-down from Old Navy over an Alternative Apparel tank, Delia*s jeans, Charles Albert motorcycle boots, and an H&M faux leather jacket. I'm carrying my Jumeau bag. The flannel and boots have seriously been my winter staples, because they are perfect for anything the New England weather might throw at them.
And because I love you guys, here's the initial Kori-posing-with-statue picture:
Instead of copying the statue's pose entirely, I amended the position to fit my lame sense of humor. Whereas her right hand is holding an apple, index finger extended, I have my right hand in the Spiderman manner. My left hand is not gracefully curved as the statue's is, but rather forcefully signaling forces of evil to stop in their tracks. Roar, justice is served.