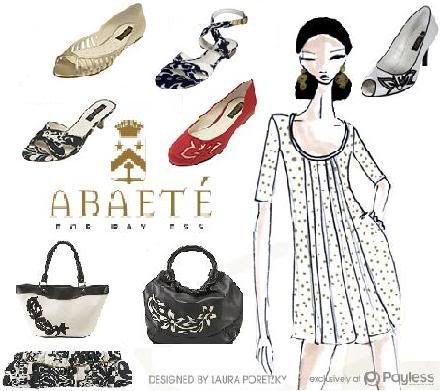 Today the Abaete for Payless spring collection finally arrived! After waking up this morning, I raced to the computer and logged on to payless.com like a little girl on Christmas morning (though I am, in fact, Jewish). At first I was surprised. Where were all the styles shown previously on the Payless website? Although I was disapointed by the lack of those amazing white boots (maybe they're part of the fall collection?), I soon found more shoes to be excited about. You have to admit...the flower cutouts on a few of the shoes and handbags are quite adorable. And while I'm not a huge fan of the ones with the tropical floral print, I can see where they'd be comfortable and breezy...perfect for late spring and early summer. There was one lone pair of flats that didn't seem to fit in with the rest of the collection, but I do think that they are cute and ideal for hot wheather because of some cutouts and a peep toe. All in all, a nice selection of shoes. And all for $20.00 or less, which is the best part : )

To get your Payless fix for even less, use the coupon code 21878.

Haha...patheticness...leaving a coupon code for my non-existant readers...