Wow, what a night last night, huh? Obama's victory struck me a lot more intensely than I had anticipated, and I was whooping and dancing for joy with the best of them. More than just relief, I felt some distinct jubilation. This will be an interesting term, and I have a lot of hope for America.

Of course, this morning found me waking with a giddy emotion I can only compare to that of a child the day after their birthday when the party's over but there are still presents to unwrap and leftover cake to munch. Not to be too specific or anything. But I flipped open my laptop, set Obama's speech to play in the background, and like the true fashion geek that I am, clicked through to Mrs. O. Mrs. O is a fun blog documenting Michelle Obama's style, and I was a bit anxious to see who had made her dress from election night. (Narcisso Rodriguez, Spring '09, by the way.) Anyway, scrolling further, my eyes were met by this photo: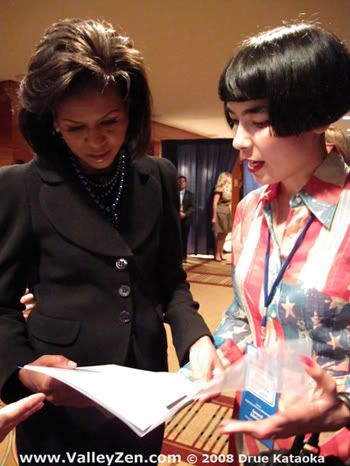 I like Michelle's style for the most part, I really do, but who could concentrate on her sober suit when the woman beside her was rocking a beflagged dress in a fresh, edgy way? Certainly not me!
It turns out this woman is a well-known artist named
Drue Kataoka
. Her artwork is definitely noteworthy, but so is her style.
I think Drue does a really good job balancing funky and classic pieces. Her signature sleek '20s-style bob, bright red lipstick, and matching nail polish always make a statement, and she clearly isn't afraid to stand out.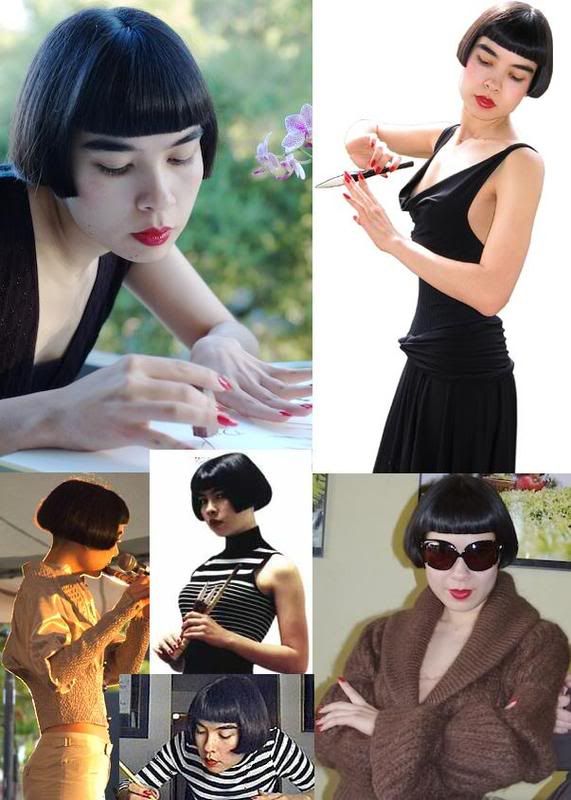 Whether she's clad in a form-fitting black dress, shimmering floor length gown, or silver pants, she seems to have definite flair for the dramatic, as is probably befitting an artist. I really am smitten with her fashion sense; she's one to watch!
That said, I am kind of psyched to see what Michelle Obama wears to the inaugural ball.
And also, don't you think Drue could pull off that YSL bob with fantastic success?