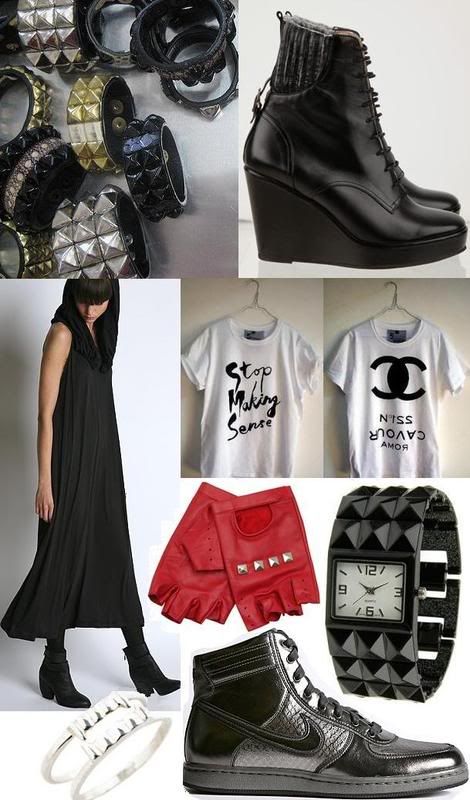 The economy is enough to bring a brave (wo)man to his/her knees. Good ole recession is upon us once more. People are throwing about the term "Depression," often accompanied by a "Great," and possibly a "Second". . .
. . . And I am making an unreasonably expensive hypothetical wish list. What else is a girl to do?
Let's take it from the top, y'all.
♥ Studded bracelets
a la Lanphear
? Yes please!
Single, double, or triple studded cuff by Made Her Think.
♥ A nice combination of some of my current favorite kinds of shoes. Lace up? Check. Clunky wedge? Check. Quirky details? Check. Ankle height? Check.
Laced wedge boots by Opening Ceremony.
♥ I love the long, loose silhouette, and the attached shawl-like thing looks fantastic when draped over the head.

Karin dress by Cheap Monday.
♥ Pretty much nothing beats a good t-shirt. I adore these two and they would get such good wear.

"Stop Making Sense" and faux Chanel t-shirt by 5 Pre View.
♥ You
know
I'm all over the studs 'n leather, especially when the two are combined to make fingerless gloves, the likes of which I've been desiring for ages.
Studded fingerless gloves by ASOS.
♥ More studded wrist candy, only this time with an actual time-telling function.
Studs square watch by Bezel (Urban Vogue.)
♥ Oh man, I somehow lost the link for these sneakers and am currently too tired to think of it. Will try to remember/update tomorrow.
Silver high top sneakers by Nike.
♥ I've been eyeing these rings for the longest time. Itty bitty vampire fangs, anyone? Mmm.
Baby vamp rings by Bittersweets NY.
Maybe making a feasible wish list of reasonably priced items would be a better use of my time? Nah!