Saturday night, as planned, I headed out into Cambridge for the Project East fashion show.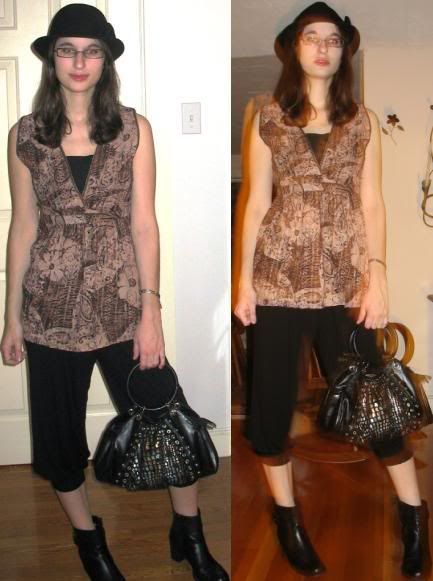 These are the only photos I managed to get of my outfit before it got wet and windblown. Apologies for the crappy quality and my terrifying expression on the right. . . My father has officially lost photo-taking privileges. I wore a Forever 21 fedora, a handmade top purchased in Jackson Heights, Forever 21 harem pants, Payless ankle boots, and a bag from a cute little boutique in Harvard Square. The top had a lot more volume than appears in the picture, keeping it from having a generic babydoll silhouette. I was comfy, weather-appropriate (the hat kept the rain from ruining my hair, always a plus), and felt good about the look.
But of course the actual show was far more fascinating than my outfit.
I had a great view from the second row, and I was so thankful to be there. The show kicked off with looks from Parsons designers Jisun Yoon, Kim Taeyeon, Lisa Ou, Sarah Law, Wen Shi, Yoon Nam, Aiden Yoo, Angela Gao, Bo Bae Lee, and Heezu Hwang. After a short intermission, professional designers Angel Chen, Chris Han, Giuliano Fujiwara, Jen Kao, Lydia Park, Manish Arora, Monique Pean, and Soojin Kang showed their looks.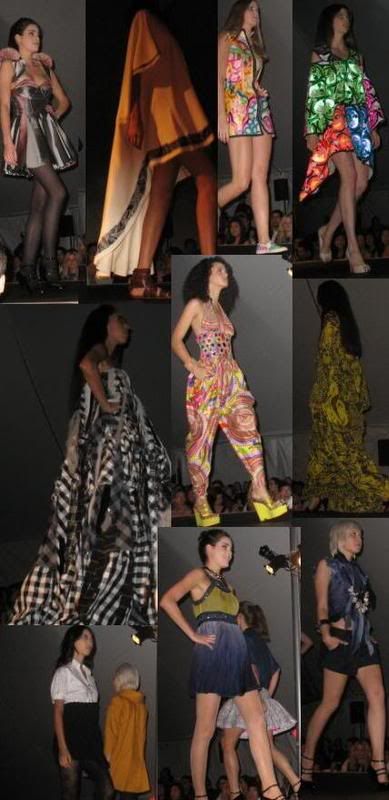 The large number of designers made for a huge variety of styles, so I'm sure there was something for everyone. I unfortunately no longer remember the specifics of who showed which looks, but the overall impression I got was extremely positive.
The last designer to go was the legendary Issey Miyake. When his name came up over the head of the runway, the crowd went wild.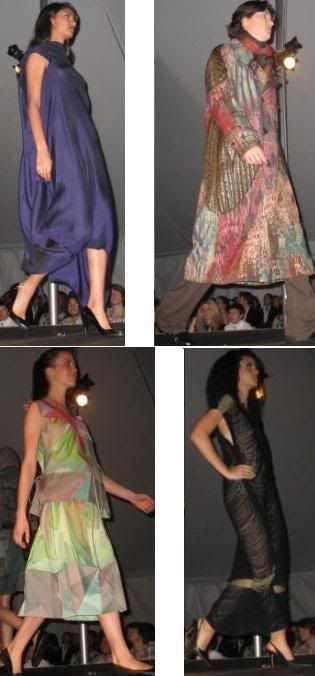 The talent of the other designers was undeniable, but wow; Miyake was on a whole different level. I believe, apart from a few frowns when my snapping camera failed to capture the occasional outfit, I had a had a large goofy grin plastered to my face for the entirety of the Miyake portion.
As the last models' heels clicked off the runway, the designers and models came out for the finale. Timothy Parent, Harvard senior and founder of Project East, strutted along with them sporting an edgy hairstyle and zipper-studded leather top.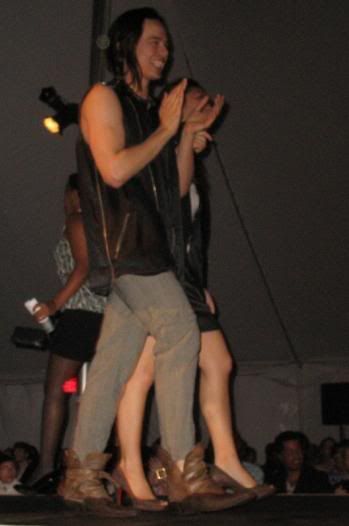 I spoke to him briefly during the post-show auction, and there's an interview in the works. He seems like a pretty amazing guy!
Then it was off into the night once more, muddied boots making a quick detour to Urban Outfitters before heading home. An amazing night indeed.