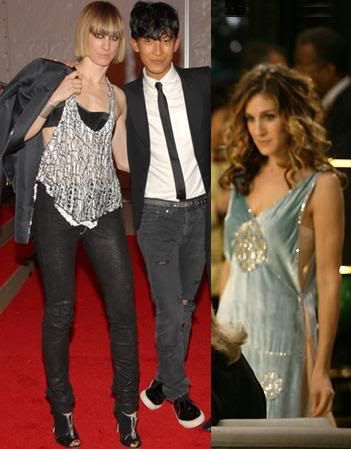 While clicking through Style.com's coverage of the Met Costume Institute Gala like a good little fashion fiend, I was shocked to find that Zac Posen's Clark Kent outfit was one of my favorite of the night. (How ludicrous is it to attend a superhero-themed fashion extravaganza without looking the part? I'm talking to you, Almost-Everyone-But-Zac-Posen!) I was also shocked by the picture on the above left. Why? Well, the woman who can pull off the visible bra is a rare creature. She must execute her outfit carefully and perfectly, because any mistakes can lead to jeering telepathic messages of "SLUT!" being transmitted by nearby humanity. But in the pictures above there are no mistakes, only sheer sartorial perfection.
I think the reason for this is that smaller boobs = no cleavage in these looks = more tasteful. I don't get the idea that either of these women are trying to be sexy by showing the side of their bra; it seems more like part of the look.
With my larger chest size and everything (and this is where I started to debate posting this on the internet, seeing as people I know now actually read this...), this look isn't for me. And as for other underwear-as-outerwear concepts, well, let's just say I was not a fan of that notorious Marc Jacobs collection. But the thing is. . . I see no need to wear underwear as outerwear. That's not to say I don't enjoy the look of of corset tops and slip dresses as much as the next girl - I do, believe me - but I think there's something to be said for keeping it hidden. I like lingerie, and I like to wear pretty styles. I recently picked up a lacy, pale green bra from Gilly Hicks, and I feel amazing wearing it. But I buy these things for me. One of the things that interests me about fashion is the way it can influence your mood and the way you act. Pretty lingerie puts a smile on my face and boosts my confidence because I have a cute little secret (that, incidentally, I'm now sharing with thousands of readers) hidden away beneath my clothes. I don't need other people to see it; I just need to know it's there.
An odd excuse for a money-wasting habit, but there you go.
I feel a bit odd posting about this. I should just hit "publish" before I change my mind.
P.S. You know the printed dress worn by the blond Teen Vogue staffer in my last post? Well, the girl's name is Mary Kate Steinmiller, and she just told me that the dress is Hurley and will be available in the Fall. Hurley- can you imagine! Three cheers for cute, affordable dresses!