Has anyone checked out Rogan for Target yet? I had only a short time to spend at the local store yesterday, but I managed to grab the zebra print leggings. They're so fun/comfy, and I have to admit I love leggings, if done right. Of course, now I'm lamenting the fact that I didn't have time to test out the romper that Camille managed to make me covet. Must return to Target!

Not to do two outfit posts in a row, but I played around with the leggings today. The stripes didn't come out so well in the photos, but look online or in the store to see what they really look like.

First I went for a sort of black-on-black effect, with a denim vest and necklace to brighten it up: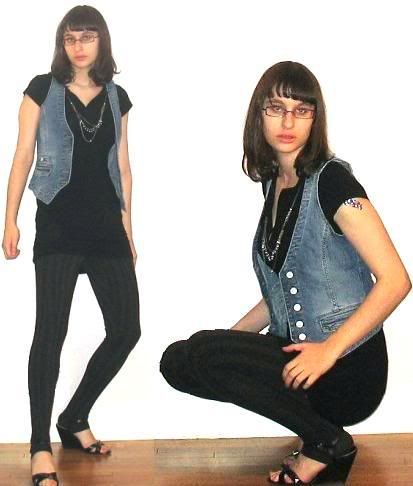 Black tunic: Costa Blanca, vest: H&M, leggings: Rogan for Target, shoes: Bitten SJP, necklace: American Eagle
Next I played up the safari aspect of the print:
Top: Old Navy, skirt: Urban Outfitters, belt: Nordstrom, leggings: Rogan for Target, Shoes: folded-over sweater boots from a few seasons ago, headband: H&M
I think I look strange when I wear headbands like that, but the look was screaming for it. The look was not, however, screaming for the colorful band aid on my arm; I was due for a tetanus shot at my annual check-up today, and the nurse gave me that lovely souvenir.
What did everyone think of the season finale of Gossip Girl? I can't believe I'm so upset that it's over. Why do I always get addicted to these shows?