Because I'm a senior, I got to do a final project for my Medieval Literature Class instead of taking a final exam. Woot! The assignment was pretty open, so being who I am, I decided to focus on medieval fashion. I spent hours poring over fashion history books, searching for any mentions of clothing in the books we had read in class, and looking at obscure internet sites for additional information. I ended up making a bunch of paper figures (they took a lot of time) and writing a paper. I have to present my findings in front of the class on Monday.

So why am I telling you about my assignment? Because it's relevant in fashion today! Huzzah!

Here are some (majorly downsized) scans of the little paper figures I outfitted in different medieval garb: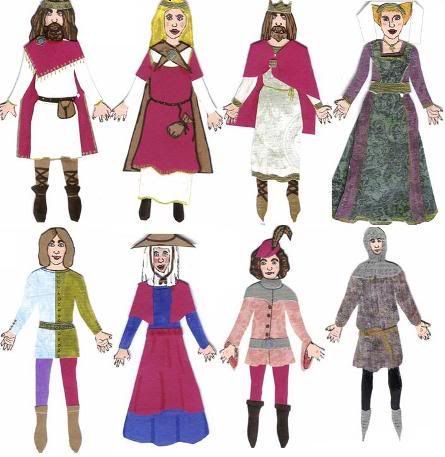 Above you can see (L-R from top left corner): King Arthur & Queen Guinevere in Britain around 500 AD; King Charlemagne in France around 800 AD; a young female noble in Italy in 1343 AD, a young male noble in Italy in 1343 AD; a well-off craftsman's wife & fashionable page & rich but not-so-well-dressed knight away from battle, all in England in the late 1300s. These are all characters from books we read, if you care to guess which ones!
Of course, medieval clothing is not so practical today. Long capes get caught on things, shawls are cumbersome, and tall headdresses get in the way. But there are some aspects of medieval fashion that have stayed with us over the centuries. Here you can see modern outfits clearly inspired by medieval ones: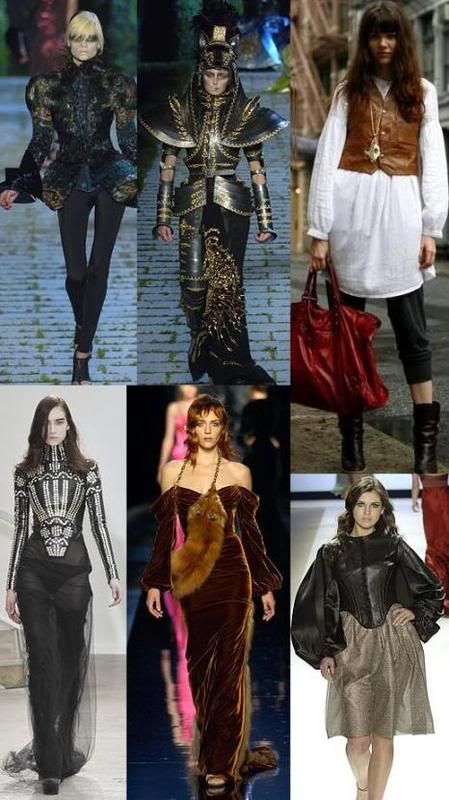 From left to right: Fall 2006 Dior Couture, Fall 2006 Dior Couture, the Sartorialist, Antonio Berardi Fall 2008, Fall 2006 Jean Paul Gaultier Couture, Project Runway final collection: Santino Rice.
These outfits borrow things from both men's and women's medieval clothing - specifically, armor, shape, high necks, long tunics, outer corset lacing, leggings, voluminous sleeves, long skirts, and fur. Expensive furs were a major status symbol throughout most of the late medieval period, and I'm tickled that this is still the case today.
Here are some more wallet-friendly medieval-inspired garments to bring a whiff of history to your wardrobe: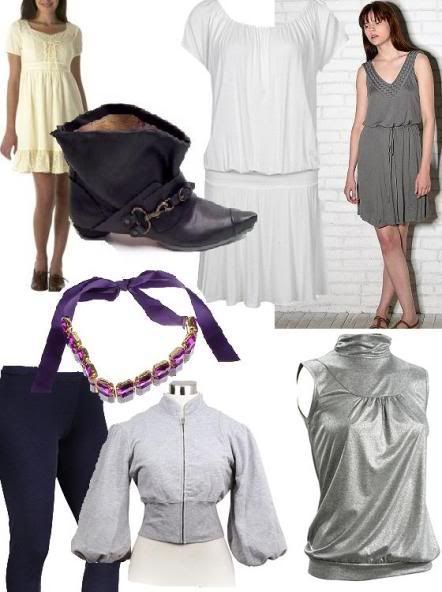 From left to right:
♥ Jovovich-Hawk for Target corset front dress: Outside corset lacings were in vogue for a portion of the medieval period among the ladies.
♥ Irregular Choice boots: Pointy-toed shoes were in, baby! Among some nobles, the points grew so long that the tips of the shoes had to be tied to the knees in order to walk. Eep!
♥ Forever 21 cinched tunic: Simple tunics were often worn under more elaborate pieces.
♥ Lux entwined dress: This kind of garment would have been worn over chain mail/armor for a knight or over a dress or tunic in the early feudal period.
♥ 12 x 12 jewelled headband: Elaborate hairstyles came in the late medieval period, but circlets came in and out for hundreds of years.
♥ Forever 21 leggings: Men wore leggings (they called them hose) a lot. On a slightly-related note, have you all seen Mel Brooks' Robin Hood: Men in Tights? If not, you should! "We're men - manly men! - We're men in tights...")
♥ LA Made heathered Prague jacket: With its high neck and voluminous sleeves, I have no trouble imagining a fashionable 14th century noble wearing this. Just, you know, without the zipper.
♥ La Redoute sequined shirt: Can you get any closer to armor without straining those upper body muscles? I think not!
Well, fare thee well, dear readers. Thine queenly writer must retire to the royal bed chamber until early morn.