I'm pretty sure my most popular article of all time is "Getting the Perfect Pixie." I wish "How to Accept Your Body and Move On," one of my personal favorites, was so popular, but alas I am not in control of what people read. Shocking, I know.

Anyway, I have enough trouble keeping up with comments on recent posts and that kind of thing, so while I read the many comments that appear on the pixie cut post, I don't tend to reply. I appreciate that people took the time to read and respond, but I'm just too busy to write my own response. However, a freshly-written comment on the not-so-fresh pixie article caught my attention.

Renee said: "This post originally inspired me to get my hair cut pixie-short. That was around two months ago; I've had it cut again once, and I'm already disenchanted. My hair has always grown fast, but within two or three weeks of it getting cut I had to gel the hell out of it in order for it to not look like a white-girl fro. It was starting to become a mullet before I cut it again, and now it's just not behaving.I can do a faux hawk with it but even that requires a lot of patience and manicuring, and it doesn't weather well with my habit of petting my hair. I loved the pixie, it looked good on me for a little bit, but now I'm faced with the desire to grow it out and having no idea how. It's almost summer so I can hide the awkward phases with scarves and the like (it's not allowed around my gang-infested school), but for those who are considering cutting it all off, heed my warnings.Right, I'm done. Sorry about the length of that. Just trying to spare some possible-pixie-chicks some frustration and money."

I feel your pain, Renee, and I'm here to help! This is something that you can overcome, not something that will overcome you. Let's talk about a few issues that come with pixie cuts, and how they can be dealt with.

♥ Pixie Maintenance. So your pixie cut looked dazzling for a month or so, but now its becoming a bit shaggy and mullet-y. This problem is not a huge deal. I was traveling in Israel when I noticed my pixie was too long in the back (beware of impending mullet!), not to mention the little bits of hair in front of my ears were threatening to become those ear locks (peyas) worn by Hasidic Jews.

Allow me to clarify.



But all is not lost, dear readers! My story did not end badly! As I sat in a Haifa dorm room, twirling my faux peyas and contemplating breaking my mirror, a friend came to the rescue. We didn't have scissors with us, but we did find tiny nail scissors. My friend removed the ear locks in a few snips, then hacked away at the longer hair that was growing past the base of my skull. I looked fine. The lesson here is that yes, your hair will grow out quickly, but you do not need to see a hairdresser every time. It's pretty hard to mess up when all you need to do is trim off an inch or so in the back and an itty bit in front. I'd like to point out that if my hair survived a cutting with nail scissors, yours will surely survive one with real scissors. Get a friend to do it and you'll be set until your next hair appointment!
♥
Growing it out for real.
You've had enough of your short 'do, and you want longer hair, damnit! This time, when your hair reaches the shaggy, mullet-y stage, you don't trim it, and it looks awful. What to do?
Well, I'm an expert on what
not
to do at this stage. I let my hair grow, sans any sort of styling, until everything but my bangs was chin length. The bangs I then cut right above my eyebrows. I looked like a scarecrow.
I think the trick is that as the hair grows out, you need to sort of "prune" parts of it until you have finally reached an acceptable grown-out stage. Let's look to Miranda Hobbes of
Sex & the City
for some guidance: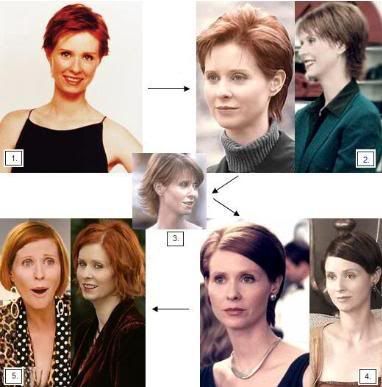 1. Stage one: Miranda is rockin' a cute pixie.
2. Stage two: Miranda's hair has grown a bit, but she is not afraid. She battles bad hair by parting hers on the side and tucking any extra bits behind her ears. She has let the hair at the back of her head grow longer, but the way her top hair is parted and has grown longer than pixie length keeps her out of mullet territory.
3. Now that Miranda's locks have continued to grow, her front hair is long enough to allow her to wear stylish bangs at the front. She parts the rest of her hair in the middle, and lets it keep growing.
4. Notice that the back of Miranda's hair hasn't grown past her neck; she is clearly giving it a few trims to start getting rid of the short top/longer back proportion of the pixie. Her front hair is now too long to wear as bangs, so she has given herself a side part and stuck any extra hair behind her ears. She looks sleek and fabulous, I think!
5. Miranda's former bangs grow further, and she finally crops a bit of hair off the back so that all strands are the same length. Miranda keeps her hair this way for the rest of the final season, but you don't have to keep your hairline above your chin if you don't want to; let it keep growing!
See? It's not so bad! Pixie cut maintenance is fairly easy and mindless, once you get into the routine, but you'll want to find a good hairdresser and do some planning when it comes time to grow out the 'do.
I think this pixie cut subject is becoming a series. If you're interested in reading more, check out my
initial post
on getting the perfect pixie, as well as my
second post
with some examples of short hair cuts to try.
I hope this helps! I really wish I knew all this when I grew out my pixie; it was a painful process.