I recently received an email from a reader that said, "I wanted to ask if you had any websites that were really good for looking up chic haircuts, I want to go really short but I'm not really sure exactly what I want, and I can't seem to find any decent websites online."

I figured I'd post my answer here, because other people might find it useful. Short hair is so easy and comfortable, and it can look damn hot! Embrace it!

I know for a fact that finding a picture of the exact cut you want can border on impossible. I remember that when I decided I wanted a pixie cut, I was sure finding a picture to show my hair stylist would be a snap.

It wasn't.

In the end, I threw up my hands, went to the stylist, and explained what I wanted. It came out beautifully, but I got lucky. Unless you know exactly what you want your cut to look like, you need to find a picture. This will a) ensure that you figure out what you want your cut to look like, and b) give the stylist an extremely clear idea of what you want.

What I'm trying to say, dear readers, is that this was a smart question, and I'm happy to answer it.

Now on to the good stuff.

A while ago, I wrote a post on getting the perfect pixie (which actually might be of some use to you.) I noticed that I was getting a lot of hits on that post from a hair forum, which led me to check out the website that hosted the forum. Hair Boutique seems amazingly useful to me, and there is a feature where you can search for pictures of hairstyles based on hair length, face shape, hair color, etc. Some of the pictures aren't great, but there are a bunch of good ones if you're patient enough to sift through them.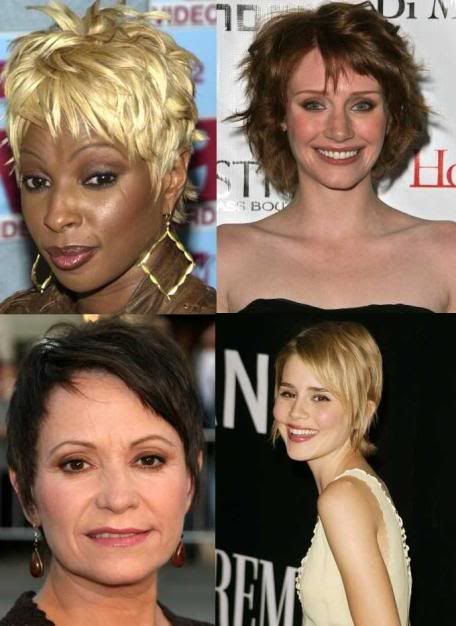 Above: Pictures found via Hair Boutique
Also, The Fashion Spot has a
thread
discussing short haircuts that's filled with fabulous photos of stylish short hair. These photos are some of my favorites among all the ones I found while researching for this post, so check it out!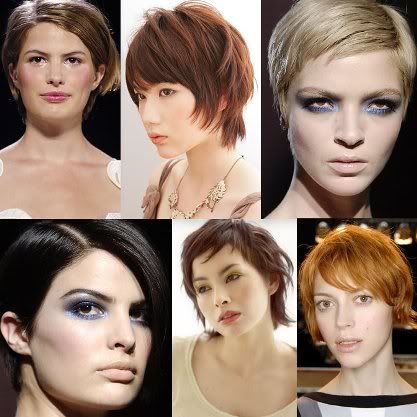 Above: Pictures found via TFS

Finally, flickr has a few great groups bursting with photos of short-haired women. Take a peek at Beautiful Short Hair and Cut It Short to see some gorgeous ladies rocking amazing 'dos.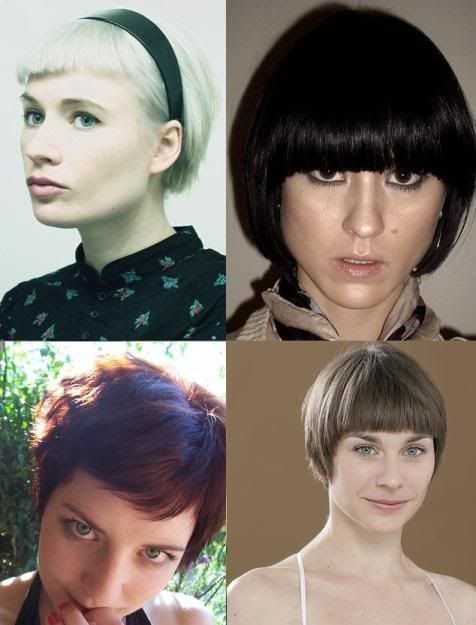 Above: Pictures found via the two flickr groups
Best of luck, darling! I'd love to see a picture of your new haircut!