Sorry for the gaps in posting - I'm currently wrestling with several school projects/papers, not to mention preparing for the senior show. Stress is the word, people.

Anyway, last night I finally got around to reading the issue of Time: Style & Design that my friend loaned me. My family has a subscription to Time, and I enjoy reading it, but the addition of a oh-so-cool Agyness lounging on the cover made me extra-eager to read it. So I dove in.

One article that I found especially interesting concerned fashion in the Middle East. It talked about how girls are struggling to be stylish and unique, while at the same time covering themselves up according to their religious values. If a girl has fashion on the brain, however, we just know she's going to find some creative solutions, and that is exactly what these girls are doing. Read the article here. It's interesting - I promise!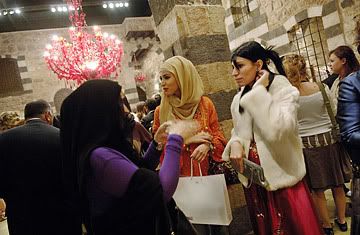 This article got me thinking about how the clothing we wear can be dictated - and restricted - by rules. I'm not a Muslim, and I don't live in the Middle East, so I don't have to worry about wearing a hijab and that kind of thing. And while most of the students at my high school dress pretty uniformly (besides me. . .), there is actually no school dress code. I remember seeing a high school girl get off the bus at my school when I was in middle school (where we had a dress code) with a short pink pixie cut, bra top, and low-slung jeans. A silver ring glinted from her navel. No one dresses like that here, not anymore, but it's nice to know it's not forbidden.

I guess what I've realized is that I live in a pretty open environment, fashion-wise. My somewhat eclectic outfits are not always embraced, but they are definitely tolerated. The so-called "rules" that dictate what I wear come from what society expects from me, and in turn, what I expect from myself. I wouldn't wear my combat boots to temple, because it would feel disrespectful. The military connotation of the boots just doesn't feel right in a place of worship. In the same way, I wouldn't wear a too-short tank top that leaves my bra straps in full view to a meeting with a teacher. No, more conservative dress isn't required of me, but a slobby-sexy outfit might send a message to the teacher that I'm not taking the meeting seriously.

What I'm trying to say in a long, rambling, and not-so-elequent way is that I appreciate the openness of my society. I know that many Muslim women do not find their hijabs oppressive, and I fully support anyone who chooses to wear them. The problem, I think, comes when choice is no longer taken into account.

I'm not an expert on the subject, so I'm going to shut up now. What do you think?

On a semi-related note, I'm looking foward to reading this. Also found in the same issue of Time: Style & Design, Girls of Riyadh sounds fascinating.

"Four upper-class Saudi Arabian women negotiate the clash between tradition and the encroaching West in this debut novel by 25-year-old Saudi Alsanea. Though timid by American chick lit standards, it was banned in Saudi Arabia for its scandalous portrayal of secular life. . ."