Last night I went to an. . . interesting event.

My friend Bea was modeling in a hair show, and she invited my friend Juli and me to come along. We didn't know what to expect. At all.

When we got there, after a bit of mingling (the rest of the audience seemed to be hairdressers), we sat down and waited for the show to begin.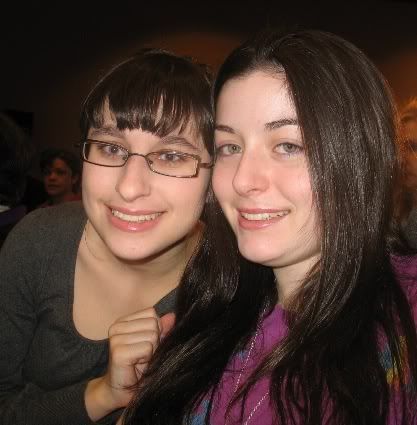 Here we are, waiting.
Then, after a short presentation about the J Beverly Hills line from John Dellaria, the show began. An apparently famous hairdresser (Miyake, I think? Supposedly he cuts Julia Roberts' hair. . .) took to the runway, demonstrating his flawless hair-cutting style on a model.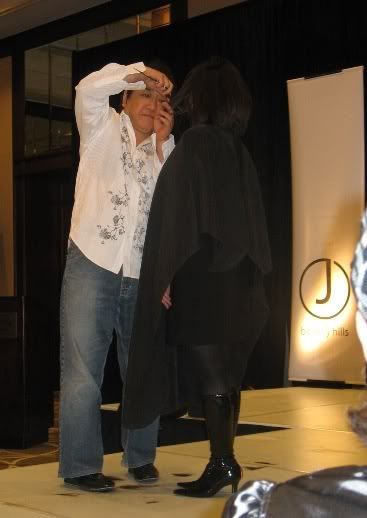 Miyake power!
Unfortunately, as he moved on to a second model, I felt my interest slipping. I just couldn't bring myself to care about the movement of the hair, or the way the scissors were held, or different cutting techniques for very long.
So I was kind of glad when his presentation was over.
Until another hairdresser came out to showcase her hair-cutting skills. And another. And another. It lasted for about three hours, and I was bored out of my mind.
It was cool to see my friend Bea on the runway, however. She's so beautiful!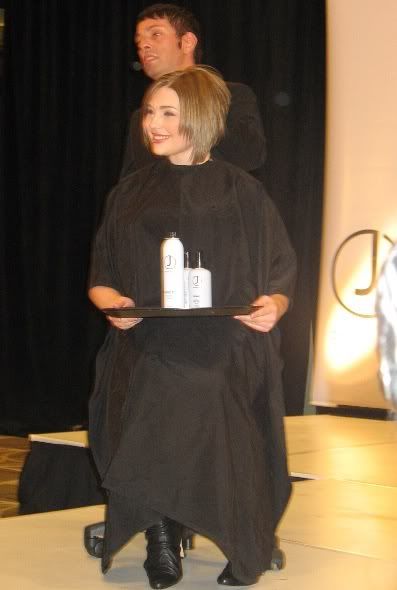 This is Bea, looking lovely with her chic new bob.
When the hair-cutting demonstrations were over, the stylists moved on to updos.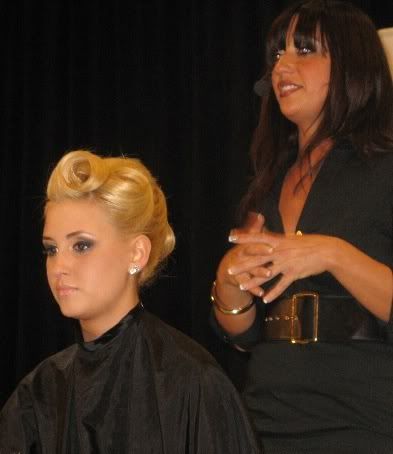 My favorite updo
I hated the updo in the picture at first, but it grew on me. I could see it looking very retro-chic with cherry-red lips on someone without orangey fake-tanned skin. It's not for me, though. I prefer a more natural look.
That was basically it for the hair show. The models all walked the runway one last time to show off their new 'dos in the finale, and then applauded the hairdressers.
I congratulated Bea and raced to the car, brain screaming with relief that the four hour festival of boredom was finally over. I turned to Juli, and as we locked eyes, we collapsed onto the back seat, shaking with laughter. Between giggles, she managed to gasp, "That was so boring!" I nodded, wiping streaming eyes, and continued to laugh.
I mean no offense to any of the amazing hairdressers in the show. They were talented, really, and I'm sure some people found it interesting. The rest of the audience seemed riveted, actually. But as much as I like having a cute haircut, I can't handle talking about it for hours. Just cut it and get it over with, please. That's what I pay people for.
So, have you ever been to a hair show before?