I made a few purchases today that I'm supremely happy with.

First there's this Jovovich-Hawk for Target top I picked up today: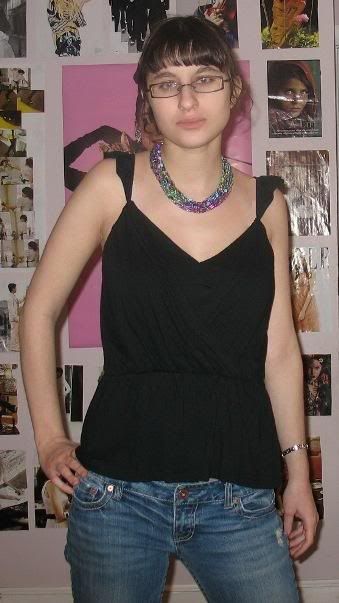 I like the draping and Grecian style, and the fact that it's soft and loose. I was a little disappointed because the two pieces in the collection I was most excited to see in person and possibly buy were the linen vest and that absolutely adorable linen bag, and they weren't in the store.
Oh well. I'll have to try again some other time. The sizing and quality of the line is too variable for me to risk buying online.
My other purchase is the necklace I'm wearing in the above picture. Here it is close up:
I bought it for $20.00 from a younger girl in my neighborhood this morning. She and her friends make this amazing jewelry (in lots of color combinations), and they held a crafts fair today. They are donating half of the proceeds to a school in Sudan, and the other half goes toward their supplies. I asked my neighbor if she would be interested in selling to you guys through my blog, since I think the jewelry is so pretty and the cause is so good. She hasn't decided yet, but we shall see... Anyone interested?
I love my necklace, though! I know I said I hated chokers, but apparently I don't. So Wendy, you can stop being shocked and disturbed by my aversion to chokers now.
Yay- I love buying new things!