Here's a dirty secret- Nobody cares about your appearance as much as you do. Seriously, it's true. Think of it this way: How much time do you spend in front of the mirror inspecting some body part, say your skin? I know I can easily spend 10 minutes at a time doing just that. And judging from the huge skincare market, I'm not the only one. Now, when is the last time you spent 10 minutes inspecting someone else's skin? What about 5 minutes? Hell, what about 2 minutes? Chances are, you've probably spent less than 30 seconds inspecting someone else's skin. Why? Well for one thing, it would be socially unacceptable, but also, why should you care enough to bother?! I don't! I'd rather listen to what someone has to say than stare at the size of their pores. It's just a fact. As humans, we are way more critical of ourselves than we are of others. This isn't because we're self-absorbed - though many people are - it's just because it's human nature to be self-critical.

Once you accept this fact, it becomes a lot easier to accept things that you don't like about your body. Sure, you don't like your big hips, but they look great on Beyonce, right? It's easier to like the same attributes that you hate on yourself when they are on other people. Take this knowledge and use it. Find someone beautiful who shares your physical "flaw" and write down why you think it looks good on them. These are the same reasons it looks good on you. Learn to love it! Big eyebrows? Look at Ali Michael. Long chin? It looks good on Sarah Jessica Parker, right? Big lips? See Angelina Jolie. Curves? America Ferrera. These so-called flaws are what makes the appearances of these celebrities unique and recognizable. Remember that.

This technique worked for me. I have a rather large nose that I have always been embarrassed about. Then I saw a big-nosed model in a Taryn Rose ad...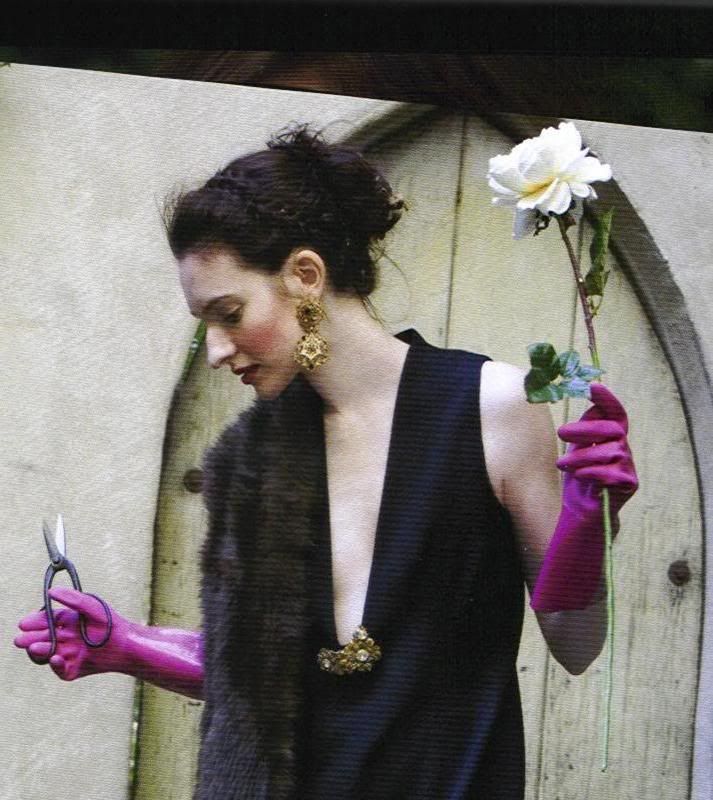 ...and I thought she was beautiful. I thought her nose added to her beauty, because it gave her a regal appearance, made her face more interesting, and made her stand out from all the other models with tiny noses.

Well, you know what? My nose does the same thing for me. And I like it a lot better now that I've thought it through.

Learn to love your "flaws." The end.

P.S. Gala Darling always has inspiring "love yourself" articles if you want to read more of this sort of thing.
--------------------------------------
This has been an inspirational post instigated by the endless complaining of a gorgeous friend.