Right now I'm a bit giddy over something slightly foolish.

I'm ordering a free set of business cards from Vista Print so that I can slip them to Teen Vogue editors and the like at Teen Vogue's Fashion U.

Sure, they may find me annoying, or they might not even accept the card, but there's a chance that they might take the card. And possibly something might come out of that. It can't hurt, right?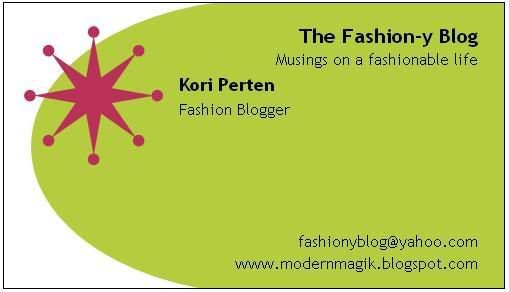 That's the card I'm thinking of (only the print won't be all distorted). I'm having trouble creating a slogan, though. Do you like "musings on a fashionable life"? Or can you think of a better one? This is my first attempt at any sort of slogan, as well as my first business card, and I'd really like it to be as good as possible. I want my slogan to (hopefully) grab some editor's attention!

Other possibilities:

♥ "Musings of a teenage fashion addict"
♥ "An unhealthy obsession with fashion"
♥"Fashion that won't break your wallet"
♥ "An ode to a quickly growing wardrobe"
♥ "The not-so-average style of an average girl"
♥ "Where the catwalk hits the street" (okay, ick)
♥ "An empty wallet, a full closet, and an open mind" (double ick, I think)
♥ "Styling tips for the weak of wallet" (did I hear this somewhere, or did I actually make it up?)
♥ "Fashionable musings for a stylish life"
♥ "A fashionable journey through the aisles of Target"

Okay, so I wasn't really serious about the last one. But I cracked up when I thought of it, so I decided to share. If you're thinking that most of those slogans suck, I sincerely agree. They get worse and worse. But I'm just brainstorming here.

Did you like any of my slogans? Do you have any better ideas? I need your help, O eternally stylish ones!

Update: After realizing how little time there is before TVFU, I decided I had to make my order right away to avoid not getting the cards in time for my trip. So I picked "Musings of a teenage fashion addict" as my slogan, since I figured that my age is one of the things that really sets me apart from most bloggers, and I made my order. Thanks to those who voiced their opinions, though! Kisses!