Did anyone else fall in love with the Armani Prive gloves featured in the Fall 2007 couture collection? I certaintly did. I'm a sucker for anything that mixes tough and girly, and badass fingerless gloves embelished with sparkling gemstones surely fits the bill. With this image swimming around in my head, as well as some other images (such as some gorgeous Betsey Johnson gloves adorned with bows on the backs), I resolved to make my own pair of embelished gloves. My project was decidedly a success.



Since I was attempting to complete my project using only things found around the house, I found some black knit gloves and cut off the fingers. I then riffled through my drawers, searching for jewels, cheap abandoned jewelry, and other sparkly things. I revved up the glue gun (okay, If you must know, I quietly plugged it in) and pasted everything on as I saw fit. The result? These beauties: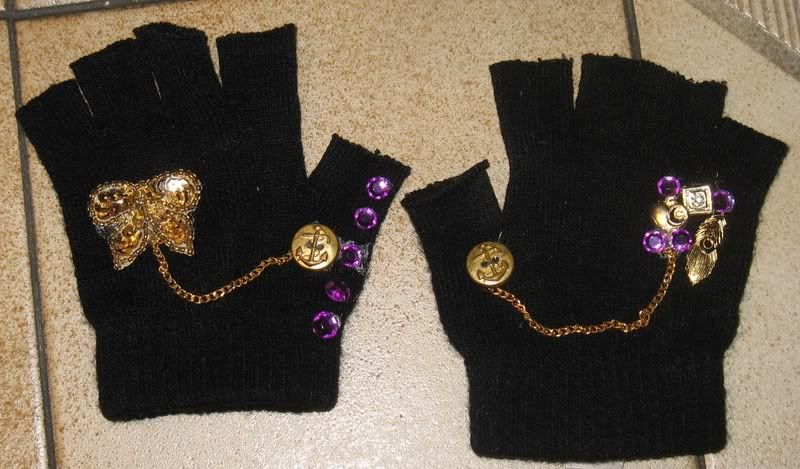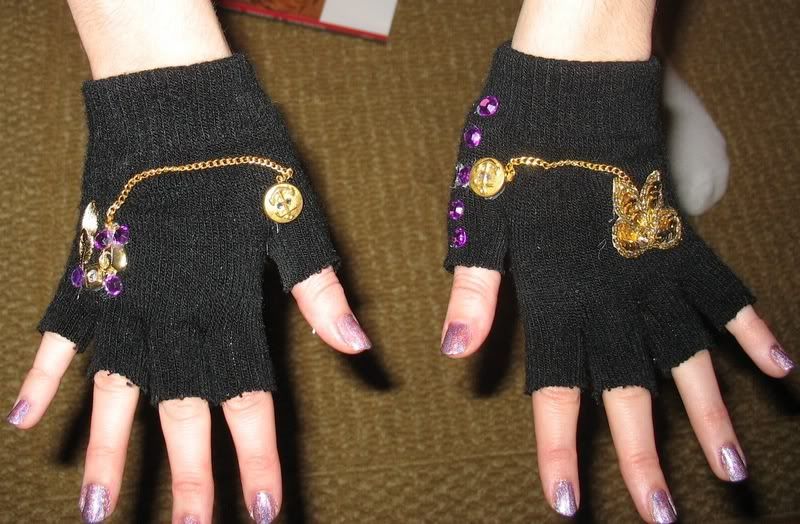 Okay, so maybe they're a bit rough around the edges, but I feel fantastic wearing them.

For the curious, the objects I used were:
♥ 1 pair of gloves
♥ 9 pink gemstones
♥ the leaf charm and chain from a Twelve by Twelve tag
♥ 2 gold buttons with an anchor design
♥ 1 broken earring
♥ 1 heart pendant
♥ 1 sequined bow patch

And the tools:
♥ scissors (to cut the gloves)
♥ wire-cutters (to cut the chain)
♥ glue gun (for the obvious)

The gloves only took me about 15 minutes to make, and I think the look fabulous. There are so many things you can embelish gloves with, like jewelry, jewels, chains, buttons, feathers, beads, patches, ribbons, lace, fabrics, etc., so it's easy to give them a personal touch. This is an excellent DIY project for anyone who lacks sewing skills (I'm working on it!) and has a lot of stuff lying around (guilty!). So go forth and embelish!