Are you ready to be blown away? Here are the first of the entries for the Blogging Society Challenge! Doesn't everyone look fabulous?! I love how all the outfits are so different!

H of Candid Cool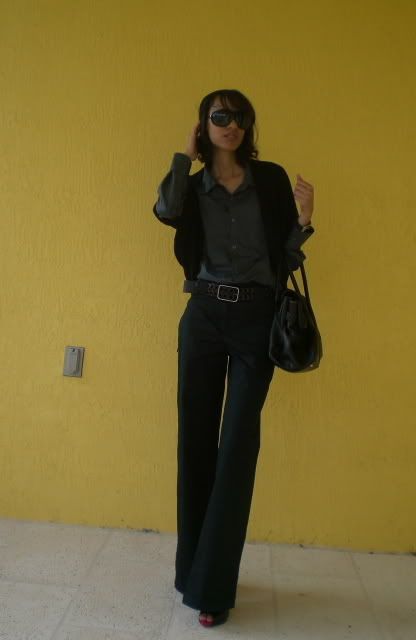 "It's originally a men's military shirt it's made of nylon so it's got an interesting sheen-y kind of texture. I had it tailored to fit me."

Christy


"Here, I took an XL men's shirt, put it on upside down (so the collar is in the small of my back and the hem is creating a collar around my neck), rolled the giant sleeves way up, and buttoned it asymmetrically across the front, then I belted it with the cummerbund. I love the way this looks but it's not the best outfit in terms of arm freedom. My range of movement there is a bit limited, so this outfit may be only for events that don't involve much reaching and gesturing. "

Daiane


"I finally managed to put up my outfit for the Challenge. Well, I actually did 2 outfits, you'll see them in the pics...

"The one with the bag is more casual, and appropriate for daily wear, out and about (I'm sending 2 pics, because in one of the you can't see the shoes). The other outfit which includes a LBD is a little more formal because of the embroidery on the dress, I hope you can see it. The photo is not that great, but I did my best :D I tied the shirt up in a little country style, and added the yellow shoes. "

Those are the only pictures I've received so far, so make sure you keep sending them in! A bunch of people signed up for this Challenge, so I'm expecting many more photos. I also, of course, have to post my own entry. I'm working on it!

Thanks to the lovely ladies featured in this post for their participation! ♥!