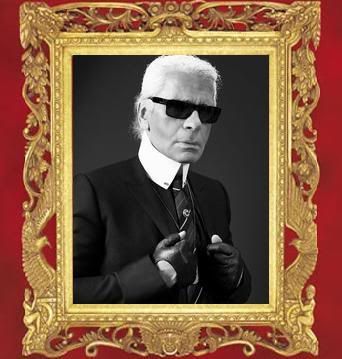 I was admiring a tuxedo-inspired jacket at Mod Cloth when I felt a sudden urge to dress like Karl Lagerfeld. As I bounded excitedly over to my closet to pull together a Lagerfeld-esque look, I suddenly realized that my wardrobe lacked anything Karl would ever consider wearing. So I trudged wearily back to my computer and set about finding a more femme Lagerfeld-inspired look to post here. It's not quite as fun as actually rocking the look myself, but it's the next best thing. So here it is: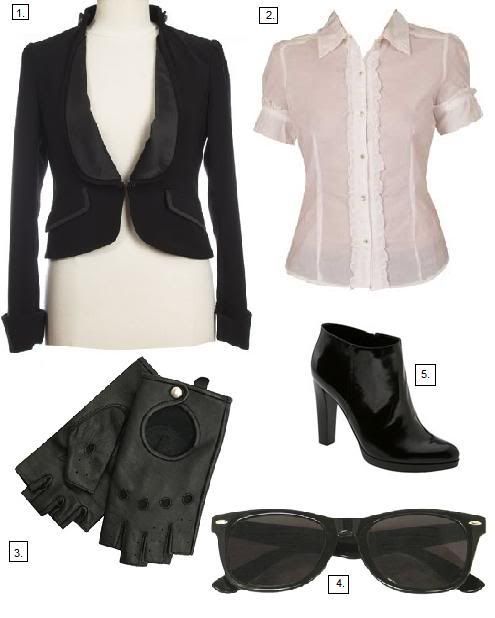 1. Tough Tux Jacket, $159.99 Mod Cloth (no one ever said the look had to be affordable)
2. Ruffle front blouse, $38 Love Tease
3. Leather fingerless gloves, $33.23 ASOS
4. Risky business sunglasses, $9 Fred Flare
5. Joydon ankle boot, $98.95 Nordstrom

Powdered hair optional.

I omitted Lagerfeld's signature black tie in favor of a ruffly shirt because a) I am clearly a born rebel (hear me roar!), and b) Whenever girls wear ties it makes me think of Avril Lavigne, causing me to spend a few nauseating days with "Complicated" stuck in my head. And it hurts, truly.

Please pair these items with a pair of skinny black pants (or jeans) if you plan to rock the look. I omitted those because I was feeling lazy, not because I was feeling rebellious. Seriously, the whole no-pants look is only for messes like Britney Spears.

Oh no. I have just made two references to bad pop stars. I am ashamed.