Lady Julianne did a post on wearing bloomers on their own, as opposed to underneath a dress, and it got me thinking. The idea appeals to me, but I have to admit that I think bloomers are really unflattering, and that I would probably never where them. However, these shorts from Asia Jam (also available in gold) give off a similar vibe, and I like them very much: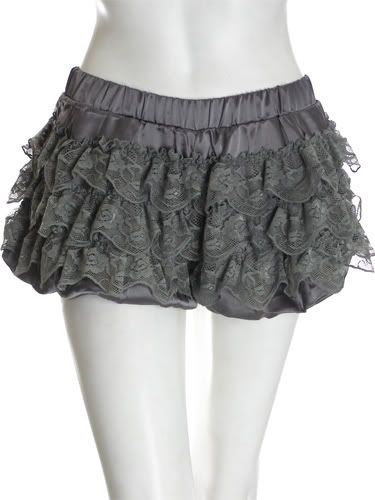 I can picture them over black tights, worn with a white collared shirt tucked in and black suspenders. Add some nerd glasses with thick black frames and some hot black ankle boots for my ideal winter girl-meets-boy look.

I admit it ... the shorts didn't appeal to me hugely until I thought of how I would wear them. I'm not sure whether I can pull them off, though.

But oh, the contrast of fairytale lace with an undergarment vibe paired with menswear! It is dancing around in my head, and it won't go away.

I'm glad I can dwell on this garment now, instead of on the fact that when I finally made up my mind to buy those combat boots, they were no longer available in my size. Screw being sensible - next time I will just buy, buy, buy without worrying about whether I would actually wear the things!