Frida Kahlo is someone I've known about for a really long time. Her self portraits have always been recognizable to me by the uni brow painted in over that steely gaze. I think my Spanish teacher once told me she was a Surrealist when we studied the murals of her husband, Diego Rivera, in class. But apart from that. . . well, I was a bit fuzzy about the details of her life, her artwork, and who she really was until I picked up her biography the other day.

It was fascinating.

Frida Kahlo was an incredibly strong, intelligent, and passionate woman. She was always looking to make a statement. She loved politics and celebrities and her (unfaithful, womanizing) husband Diego. And she loved herself.

She was in constant pain her entire life, which makes her accomplishments all the more amazing. My Chronic Fatigue Syndrome has been a real source of misery, but I can't even begin to imagine what Frida suffered. She was struck with Polio at age 6, and after an agonizing year or so, was left with a shriveled leg and foot that plagued her mercilessly. Then, as a teenager, she was riding a bus home from school when it was struck by a trolley, giving her many serious injuries that would never fully heal. Her marriage to Diego Rivera gave her ample money and a leg up in the art world, but his constant womanizing (including an affair with her own sister) took a huge emotional toll. From what I understand, she was often incredibly unhappy.

Now that's what I call bad luck! I think it's amazing that she did what she did with so much working against her!

The reason I'm posting about Frida on my fashion blog is that it turns out she was quite the fashionista! She took great care with her dress, wearing the tehuana skirts favored by peasant women at the time to show her communist/pro-Mexican sympathies. But still, she accessorized with roses in her hair, rings on all fingers, large earrings, red lipstick, manicured nails, and all kinds of opulence. Sometimes she would wear men's suits as well. Later in her life she was featured on the cover of Vogue Paris (I searched endlessly for a scan of this, but couldn't find it), and she was even the inspiration for a dress made by Elsa Schiaparelli. Even half a decade (give or take) after her death, her influence still reigns in the fashion world. For example, Jean Paul Gaultier designed an entire collection based on her style in '97, and included a look that clearly drew inspiration from the corsets Frida had to wear to support her spine in his 30th anniversary collection.

Anyway, here is a collage of the exotic, glamorous Frida Kahlo and her dazzling style: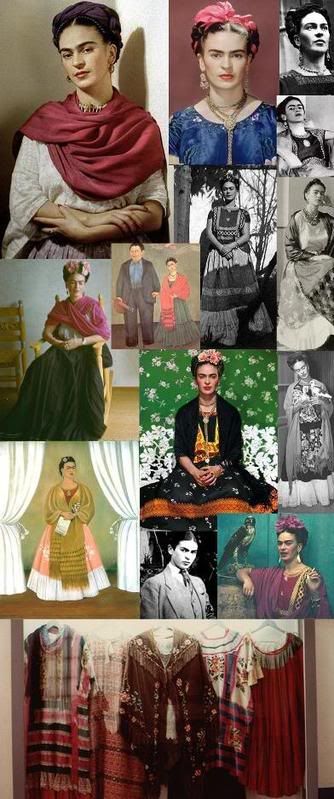 I think she was so gorgeous! The dresses at the bottom of the collage actually belonged to her.
Here are some more modern fashions inspired by Frida:
Note the Gaultier corset dress I mentioned earlier near the bottom left. Beside it is a painting of Frida (I forget who the artist is) in Dior couture! And I'm a fan of Gwen Stefani's flowers-in-hair homage to Frida in the upper center - so fun!
Frida Kahlo loved to be the center of attention, so I think she would be happy to know that she is still so prevalent in the fashion world. Viva la Frida!
For more fashion 'n Frida: Icons from the Past: Frida Kahlo on the Fashion Spot; Frida Kahlo: Beauty Icon on Style.com; Dress like Frida! Frida Fashions; Salma Hayek as Frida Kahlo in Vogue; Self Portrait in a Velvet Dress: The Fashion of Frida (a book I would dearly love to read); Frida Kahlo-inspired Fashion Collections; Online Frida Paper Doll.
Phew! I got a little carried away there! Enough links for ya?