Harper's Bazaar isn't a magazine I ever really look at, but my grandma has a subscription, so she gave me few recent copies to read when I visited last weekend.

As I flipped through the most recent issue, a page filled with pictures of an abnormally svelte, strangely dressed Hillary Clinton caught my eye.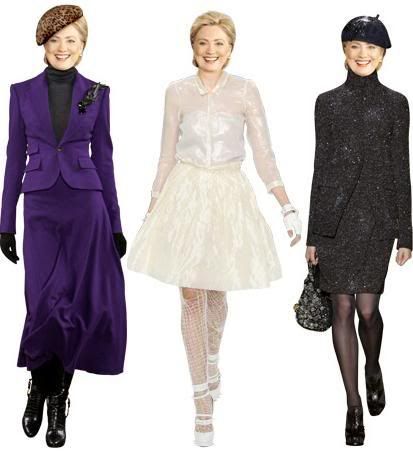 After the initial shock, I calmed down enough to realize that these pictures were the product of Photoshop. "Dressing Mrs. President," declared the header at the top of the page. "Top designers and Robin Givhan give America's would-be first woman president tips on how to get ready on day one."
Hmmm.
It's a fun thing to think about - what Hillary should wear if she becomes president - but I am constantly bothered by how much pressure is put on Hillary in regards to her appearance.
As for the article, well, I'd first like to say that the outfits picked are all wrong. Torn fishnets, sparkles, and leopard print berets? Really? Since when has that been appropriate business attire? And, judging by what Hillary has worn in the past, I am in no way convinced that any of these outfits are "her."
But that's pretty much besides the point.
The question that mostly overwhelmed my thoughts as I gazed at the row of designer-clad Hillary's was, "What do we really care about?" Do we want a president who will take the time to keep up with the trends and push the fashion envelope? Or do we want a president who will spend her time running the country?
I know what makes more sense to me.
There is no doubt that it is important for our future president - whoever that may be - to dress in a way that garners respect. The president, as someone who will represent our country, should definitely look clean, professional, and competent. But that, I think, is where the dress obligation ends. Fashion is something that everyone should be free to enjoy and experiment with, but it is a personal decision. The public scrutiny is getting a bit ridiculous.
What do you think?