A recent comment: "Can you do a post on glasses worn with semi-formal / formal wear? I can't wear contacts, and while I think my glasses look fantastic with normal wear, I feel that I look weird wearing them with semi-formal / formal dresses. It's so unfair that guys look hot when they wear glasses with their suits, but girls are expected not to wear glasses with their formal wear!!There's this formal event coming up and I'd like to look good in my dress and glasses. Any suggestions / thoughts on this?"

Aha! A problem that has plagued me quite a few times! I'd be happy to help you out, lovely!

First of all, I'd like to point out that our society seems to have developed an unfortunate misconception that "guys look hot when they wear glasses with their suits, but girls are expected not to wear glasses with their formal wear." I'm not saying that I haven't felt the weight of this idea when slipping into a fancy dress, but I think that it needs to be reconsidered. For many people, glasses are as much a part of their face as their mouth or nose. You wouldn't get rid of your nose for prom, would you? So why get rid of glasses?

Still, I think there's something to be said for picking a dress that works with your glasses, or vice versa. Just like you might buy a gown in a color that brings out your eyes, it's a nice idea to consider how your glasses will look as part of your outfit on a formal occasion.

Of course, I have come up with some ideas for how to do this through some internet sleuthing. Watch and learn, baby!



Here we have some examples of how gosh-darn amazing it can look when you match your glasses to your dress. That Dior ad has been dancing around my head for months, and not just because Jessica Stam happens to be gorgeous. The glasses and the dress compliment each other perfectly, both drawing attention without stealing it; the two outfit components share the spotlight magnificently. Take note - try buying a dress in the same color as your glasses~
Next we have some instances where the glasses, while paired very nicely with pretty dresses, are the focal point of the outfit:
Whether it's the fact that the frames are large, or that their color is in high contrast with the dress, the glasses steal the show in these pictures. Nerd glasses aren't universally flattering (and it's very unlikely that you own them), but I do like how the way the black stands out from the white in the Dior ad, and the way the red really pops on the upper right. To give this look a try, go for a dress that is radically different in color from your glasses.
Last but not least, we have the formal wear-with-glasses technique that has been serving bespectacled women for years: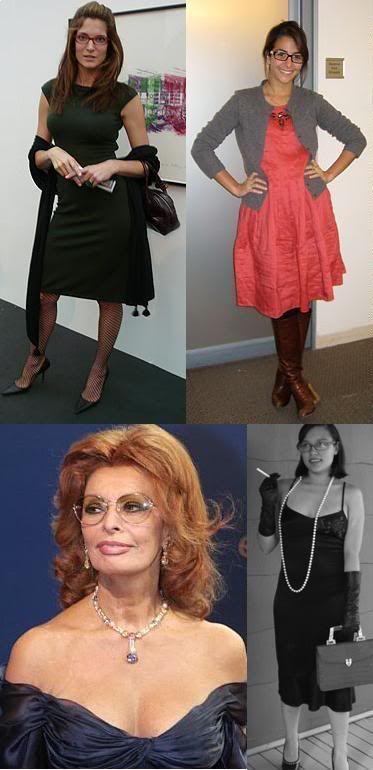 There's really no trick here, no special method. Your glasses are already flattering on you, correct? I mean, I assume you wouldn't have bought them otherwise. So how could buying a flattering dress to pair with flattering glasses go wrong? There are some instances when this idea is tricky (pairing flattering pants with a flattering shirt doesn't always work), but I think you're pretty safe in this case. The fashionable women above (two fashion magazine employees, one gorgeous actress by the name of Sophia Loren, and one wardrobe_remixer) seem to have taken this route, and they still manage to look fantastic.
The bottom line, I think, is that wearing glasses with a formal dress is a lot easier than it seems. Play with matching and contrast if you want to, but don't get too worked up about it. It's better to end up with a dress you love that doesn't match your glasses than a dress you're not too keen on that does. Savvy?
Oh, and if you're wondering about whether getting an updo for this event will look alright with those glasses, worry not. Bridget Bardot (below) demonstrates the beauty of this look.