I'm back in the swing with the outfit posts, I think! Here's what I wore to school (and then out for sushi and an after-dinner latte with the fam) on Monday: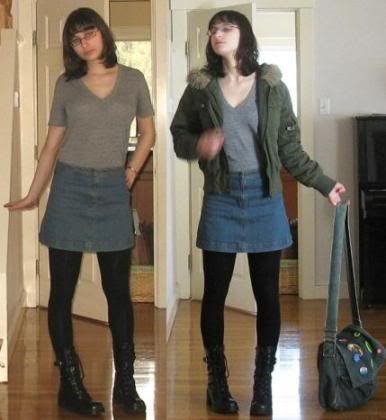 ♥ American Apparel v-neck tee
♥ Jovovich-Hawk for Target high-waisted skirt
♥ Forever 21 knit leggings
♥ Combat boots from Kohl's
♥ Wet Seal bomber jacket
♥ Thrifted messenger bag covered in vintage protest pins
Okay, so the outfit is nothing special, but it's still way different from what I've seen on people at school. The skirt, which I got on sale this weekend, is my first high-waisted item. I've never seen anyone my age in this area wearing a high waist, but since when do I dress like everyone else? It seemed like a nice place to start because it's not too high. Plus, it was cheap. I've been wanting a denim mini for ages, because they are pretty convenient when it comes to going with everything, but I didn't want the basic kind every teenage girl has in her closet. I'm happy with this one!
The denim messenger bag is my school bag that I lug around books in every day, but I don't think I've shared it here before. I love it!
On a different note, I'm sorry all the pictures a take are so obnoxiously blurry. I don't know how to get my camera to focus on me - and not the wall or whatever - when I use the self-timer. It's so frustrating! Any suggestions? I'm not so tech-savvy, but I will tell you I use a Canon A610 if that helps with the camera advice.
I hope everyone is enjoying the sunshine! I'm off for a walk with my dog in my Jovovich-Hawk Grecian top and floral Old Navy cardigan (worn open.) And pants, of course. I'm not whore.
P.S. I forgot to mention that I noticed a Forever 21 coming in at my nearby mall! I'm sooooo excited! Although I frequent the Forever 21 website, I've never actually set foot in the store. Hallelujah!