I bought a few new things while on a mini-shopping spree with my Bubbe on Long Island.

Because today is vacation and the weather has been beautiful, warm, and sunny, my friend Katie and I spent a lazy day walking in the woods, picnicking, and chatting about all sorts of nonsense. I managed to drag her out into my backyard to get a few good shots of some of my new gear, instead of the shoddy indoor ones I normally take with the self timer.

We had fun!

Here I am modeling my new shirt from H&M, my Jovovich-Hawk skirt, and some shoes I just bought for under $10 at Steve & Barry's. The shoes were from the SJP line, and are surprisingly cute! The collection is known to be plain, but these wedges feature studs and a heel that is just short of four inches - which is far from plain. I am surprised I can walk in them without wiping out. I wouldn't call my walk graceful, though. More like pitiful.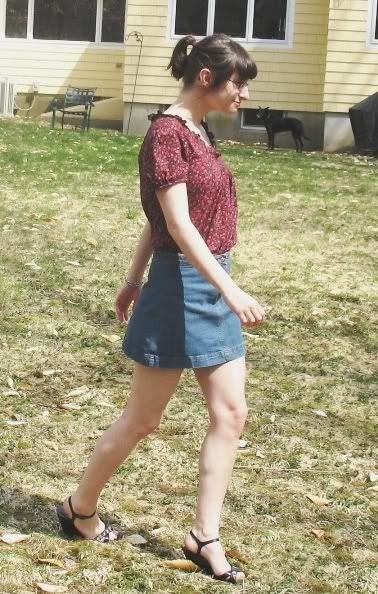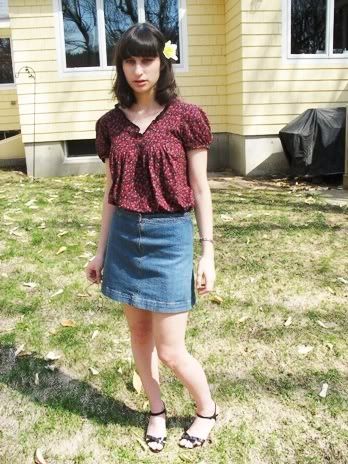 It feels very spring-like, no? Bare legs and flowers all the way! Actually, I'm a little uncomfortable in such a short skirt without leggings or tights, but I tried to balance it out with a baggy top. The studs on the shoes hopefully toughened up the look a bit and kept it from looking overly girly.
Speaking of the shoes, here is a close-up of them: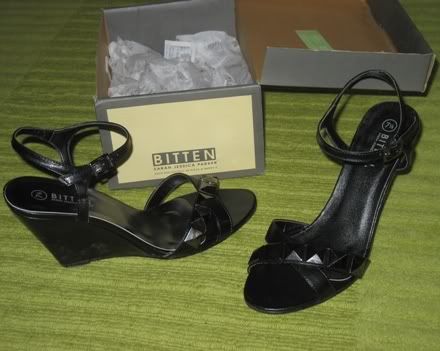 Ignore the smudge of dirt from my backyard frolic / photo shoot. Cute, right? Not the most comfortable, but good enough. They were somewhere around $8.50, after all.
Have you bought anything great recently? Do tell!