Last night my grade had a bit of an almost-graduated celebration, full of memories, food, and dancing. I finally got to wear that one-shouldered dress:

I decided to play up the toga-esque aspect of the dress with black/gold suede gladiators from Baker's, my vintage quilted bag, and a pair of gold chandelier earrings my sister lent me. My twin brother, who was also attending the event (although not as my date), is my dashing accomplice in the picture as we show off our spiffy evening wear.
Because I felt so good in my outfit (although I wish I hadn't been in such a rush to get ready so I could've done my hair in a more flattering way), I'll be extra-vain and give you a closeup of the shoes and purse: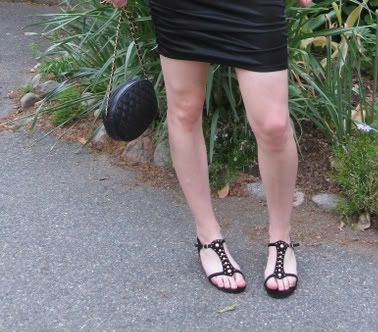 The purse has a tassel that isn't visible in the picture. The shoes have a one-inch heel and therefore were still comfortable after an hour of dancing (whereas most other girls had to kick off their precariously tall shoes), while the dress garnered many a compliment and had just enough stretch to make dancing a snap.
I love dressing up, especially at one of those occasions where everyone looks amazing. Throughout the night, when forced to abandon the dance floor for a cool drink, I couldn't help but sigh in happiness as I took in the general fashion eye candy. Nothing boundary-pushing (we're suburban teenagers, after all), but the pretty frocks, shimmering shoes, and glossed smiles were definitely worth a look.