When I was little, I would often make believe that I was a Native American princess of some sort. I had a brightly feathered headdress, the settlers & Indians Playmobile set, and some serious imagination to assist me, and I have been told that after seeing Disney's Pocahontas, I would belt out "Colors of the Wind" for every stranger that crossed my path. Later, when I was too old for make believe games, I pored over my dad's old copy of Squanto and the Pilgrims and books chronicling the lives of white children captured by the Native Americans who gradually became to live among them as family. Oh, I so wanted to be one of those children! The allure of that lifestyle, as described by my storybooks, is undeniable.

Which is why it comes as no shock that soft suede fringes and intricate beading borrowed from traditional American Indian costume have once again trickled down into mainstream fashion.

I made an inspiration collage on this subject to amuse myself a few weeks ago, and only just found it. Unfortunately, I have forgotten the sources of the photos; I hope their owners will forgive me. . .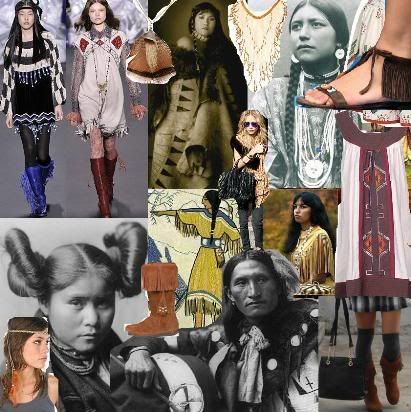 I will say that the Anna Sui runway photos (top left) have been dancing around in my head since the NYC shows, and that I love them with a fiery passion.
I purchased a suede fringe bag for a mere pittance at Marshall's, and carrying it feels like embracing my childhood in a creative, satisfying way.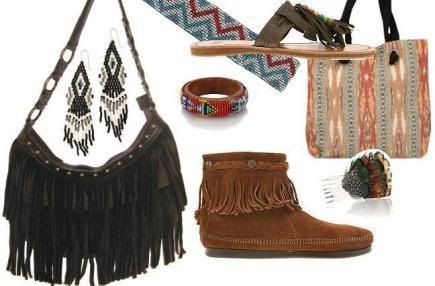 Yep, that purse on the left is mine! I'm very proud that it doesn't look out of place among the other items, given that I took the picture myself.
I'm gonna update this post with where to buy all the other items, but I'm going out with a friend now.
Update (as promised): Earrings from UO; beaded belt from Lulu's Fashion Lounge; bracelet from For Love 21; sandals from UO; bag from For Love 21; feather hairclip from For Love 21; Minnetonika mocs from UO.
P.S. Have you seen the glorious fringe-y, moccasin-y shoes at Free People? Beautiful! I want! These especially.