I would like to start this post off with a moment of silence for my laptop, which has been infected with a virus. Feel better, laptop - I miss you!

Now that that's taken care of, I'll move onto the more exciting stuff - the clothes! I've acquired some lovely new things over the last couple of weeks, and I finally got my act together to take pictures last night! I came up with some pretty sweet outfits (if I do say so myself) incorporating many of the new goods. Check it out: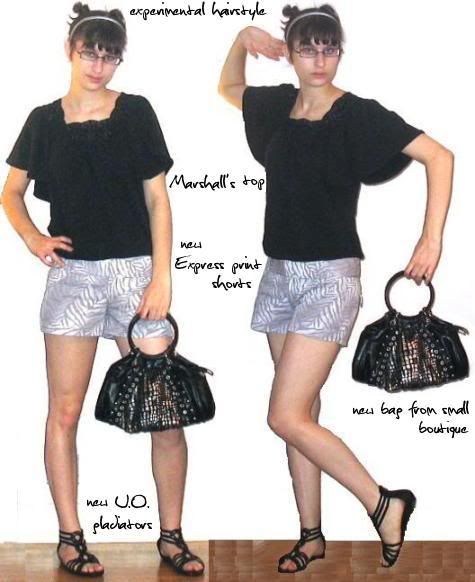 Let's talk about the hairstyle, shall we? As promised in my last post, I did some hair experimenting. I kind of like the style I tried out here, but my family finds it ridiculous. What think you, dolls?
The bag and sandals were both purchased a few weeks ago on Senior Skip Day, although the sandals broke after a few wears and I was forced to exchange them yesterday. The bag was super-cheap ($18) at a cute new boutique. I love how unique it is, and apparently the salesgirls did too, since they mournfully confessed they had been hoping no one would buy it so they could snap it up at the end of the day. Sorry, salesgirls! The sandals are super-comfy, reasonably priced ($38), and have padding on the bottom that I find most sandals to be lacking. They also have studs, which I of course adore. And the zebra-striped shorts? Well, they ended up costing $5, so I'm a happy girl!
Okay, done bragging about this outfit. Next!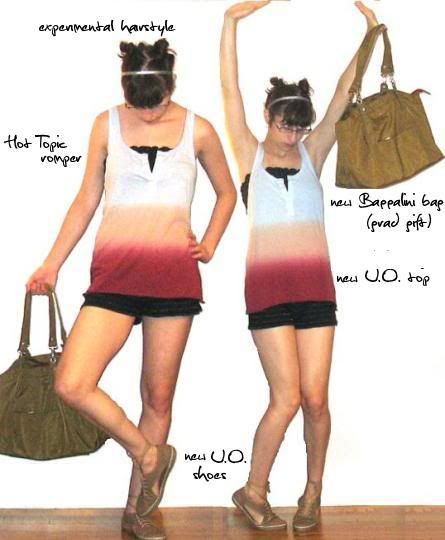 Here we have summer clothing at it's comfiest. I layered a new dip-dyed tank from the Urban Outfitters bargain basement over an old black romper, since the tank is cut too low in front and under the arms to be worn solo. I added new U.O. sneakers with cut-outs on the sides, which seemed like a practical summer item when I bought them. Since they're basically a parody of sneakers anyway, I played this up by tying them at the ankles a la ballet shoes. Last but not least, the bag was a graduation gift from my amazing Aunt and Uncle. It's by Baggelini, which I had never hear of before, but my Aunt assured me it was in the height of fashion. I adore it because it has so many compartments and expands so that I can use it as a day bag or as luggage. Just what I needed - thanks guys!
I know this seems sort of like a "look-what-I-bought!" bragging session, but apart from dressing up and showing off the new stuff, I was pleased to find how much this blog has been inspiring me to actually try the things I muse about. The hair is something I would never have tried if I hadn't discussed it here, and the dip-dyed tank would have never been mine if I hadn't discussed showing bras beneath shirts on this blog. I didn't end up showing off the bra here, but when I bought the shirt I was definitely thinking about whether I could get away with just a bra underneath instead of a cami, given the cut. I think it would work, but I need the right bra - something like this, maybe. For now, I've discovered that tops can be worn over rompers, instead of just under, which is nice to know!
Another interesting thing I've noticed is that reading other blogs gives me the courage to dress in more crazy/interesting/creative ways. No one here dresses like that, but I take courage and comfort from the fact that other people are brave enough to do their own things (stylwise) elsewhere!
Now about that hairstyle . . . be honest . . .what do you really think? I'm still not sure. . .