A while ago, I made a post about DIY runway accessories. Yesterday, I got a comment from one of my readers (Just My Cup of Lady Grey) that totally thrilled me.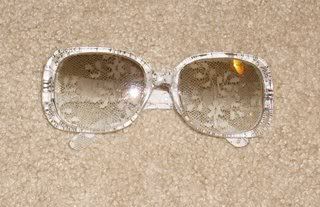 "I finally created the stunning carolina herrera sunglasses that I saw on http://www.modernmagik.blogspot.com/. As suggested I searched for a pair of clear sunglasses that I found for six dollars and then with some borrowed lace I created the look. Instead of using mod podge though, I went crazy with an old bottle of clear sally hansen's hard as nails and glued the lace down. it worked perfectly and even though I can't see out of them, they look amazing on top of my head!"

Didn't they come out fabulous?! If I didn't have to wear glasses (I'm practically blind without them), I would so make myself a pair.

And now, in the spirit of DIY, I'll let you in on the DIY project I plan to undertake. It should be pretty easy, and I'm excited to do it, whenever I get around to it.




My inspiration is the corset belts that Mary-Kate and Ashley Olsen wore to the MET Costume Institute Gala, especially Mary-Kate's. I think the belts are ultra-flattering and cool, and I think that they'll work well with a girly dress and my motorcycle boots, or a girly dress and my shiny black leggings. Also, I haven't been seeing them around a whole bunch, so they would make for a somewhat unique look. My plan is to buy black faux leather at a fabric store. I'll cut a rectangle out that is as as long as the circumferance of my waist, and I guess I'll decide on the width at the time. Then I cut off the corners, put three holes in each end (I'm planning on using a hammer and nail to make the holes, although I'm not sure how this will work...I may need to cut out small circles with a exacto knife instead), and use a string or ribbon to lace the holes together. Woosh! A belt is formed! I'll clarify this explanation with a badly drawn picture (It is SO hard to draw on the computer).




The red shows where you would cut the faux leather and make holes.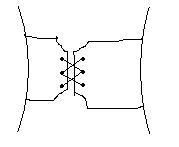 This is how the belt would look on a waist.

Feel free to make one too. I would feel tres cool if I started a trend. (No one else has to know that the Olsens actually started it.)