A few days ago, I was browsing through all the old DIY posts on Style Bytes, and was inspired by the way Agathe found ways to recreate certain runway accessories on her own for a fraction of the price. So, I headed to style.com, determined to find my own DIY projects, and here's a few of the things I came up with: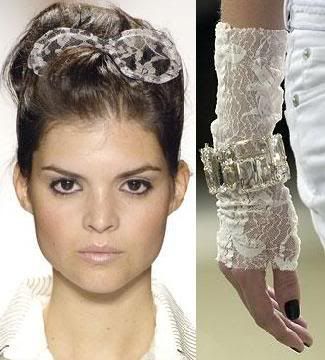 The Carolina Herrera sunglasses on the left aren't very practical, but I think they look amazing perched on that model's updo. And I think they could be easily made with a pair of old sunglasses and some lace or even a paper doiley. Just glue on the lace or doiley with modge podge or some other gloss, cut off the excess, and add an extra coat to seal it. I also like the Karl Lagerfeld lace arm warmers on the right. I plan to look for an old lace shirt and cut the sleeves off to make some of my own. Both the sunglasses and the arm warmers would look fantastic with a black leather jacket or vest, no?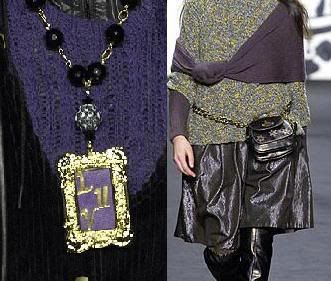 If you look at the Anna Sui fall collection, it's bursting with DIY projects. I especially like the necklace on the left, which could be made with a small picture frame. Cut a piece of construction paper to fit the frame, cut some aluminum foil or gold paper to make letters, and glue them to the paper. Put it in the frame, and glue a wire loop on the back. Use the loop to attatch the frame to a necklace. I also like the waist pouch on the right, which could be created by sewing a piece of fabric to act as a belt loop on the back of a pouch and threading a chain (which you can get at the hardware store for very cheap) through it.

Let me know if any of you attempt these projects, or if you come up with some of your own. I'd love to see pictures! Email me! If I manage to find time to get the supplies I need, I'll post photos of my own projects. I'm not very crafty, but I did recently sew sequins on a somewhat drab trapeze tank and add a ribbon around the waist. I was very proud, since it turned out pretty well. You can see it here.