The one thing I dread most about summer (apart from the mosquitos) is bathing suit shopping. I've been told countless times that the "ideal" body type is skinny with a large chest. Well, as a skinny, large-chested girl, I can assure you that it's not all it's cracked up to be. When it comes to swimwear, I am always forced to mournfully pass over all the cute string bikinis for a plain halter-style one that provides more coverage and support. It's a tragedy.

This year, however, things will be different. I have scoured the web for suits that meet my criteria. I want a suit that is cute (NOT boring), flattering, provides enough coverage so that my beach look doesn't scream, "Hey boys- I'm easy!", supportive, and doesn't look like something that a) my mom, or b) an old lady, would wear. This also means no obvious underwires or anything that would give me the dreaded "uniboob" look. Also, my swimsuit has to be fairly cheap. To summarize: I am one tough customer.

You wanna see the best swimwear I found? You got it. And for all you girls with smaller chests, I'm not leaving you out. I think that my four best swimsuit finds will work for all women, regardless of chest size.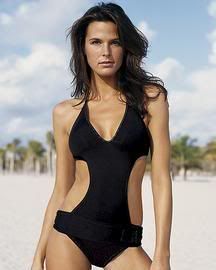 Backless halter suit, Newport News
This is my favorite find. And it's only $20! SCORE!!!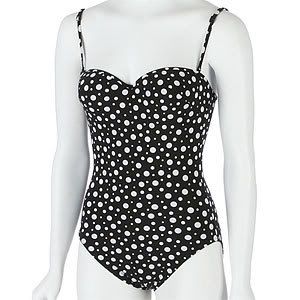 Le Mystere Polka Printed Swimsuit, Smart Bargains
This plays a close second in my affections. And while I think my mom might actually wear this one, I can't help but like it. Only $23.39, too.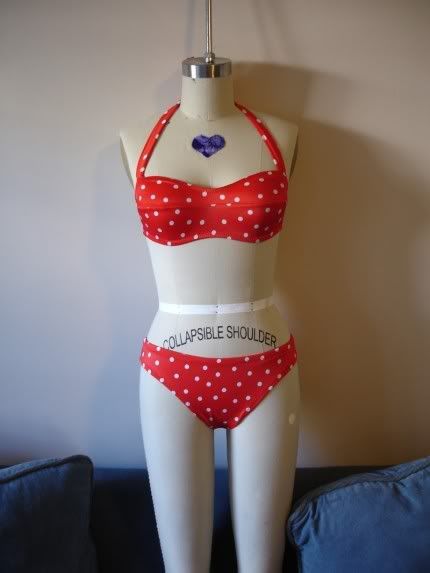 Red & White Retro Bikini, Miss Brache Etsy Shop
Okay, so this one's more pricey. But it's custom-made according to your specifications, so it's actually a great deal. Plus, it's thrillingly adorable. $72.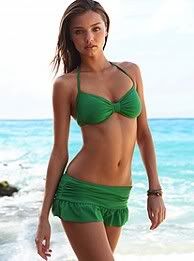 Ruched underwire top with skirted bottom, Victoria's Secret
Also slightly pricey, but very cute. Lots of color options. $71 total, but the top and bottoms are sold separately.

Happy beach-going!