It is with great jubilation and a lot of excited shrieking that I inform you I will be vacationing in Costa Rica during Christmas break. (My chronic fatigue seems to be slowly improving, and I think I'll be up to a little beach-going.)

You know what this means, don't you? Shopping is in order! I need a new swimsuit, sunglasses, and possibly a new beach-y tote. The search is on!

I know that my swimsuit selection will be limited due to the fact that a) It's the dead of winter and b) My chest refuses to stay covered in itty bitty bikini tops (TMI?), but I think it would be fun to go for a sort of glam swim look.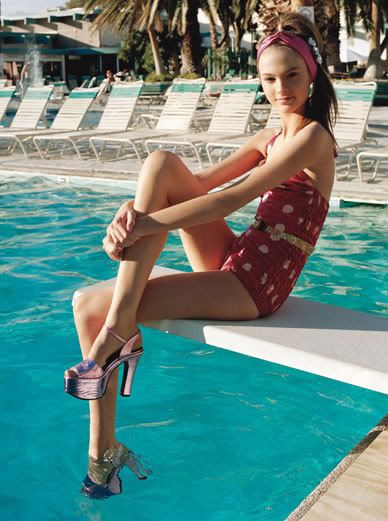 Of course, the platform heels and belt are totally impractical for the beach. But the cute retro swimsuit, ponytail, and headband? I might be able to do that.
Well, we'll see. Any suggestions as to where to shop for swimwear at this time of year?