Well, it's finally that time of year again. You know, that time where drunken high school kids parade around in stilettos and poofy dresses and attempt to dance. That's right...it's prom time. I, sadly, will not be able to attend my own prom. It's not so much the dancing and fancy dinner that I'll miss, but the act of shopping for the perfect prom outfit and getting all dolled up. To curb my desire to go on a massive prom shopping trip for no reason, I decided to do some 'fake' online shopping...that is, I put together prom looks without actually buying the stuff. Genius, I know. I'm not a fan of 'typical' prom wear, with the Cinderellas fluffiness and all, so my idea of the perfect prom look is designed to turn heads. I aim for bold, playful, cheap, and unique. Is it possible, you ask? Why yes, yes indeed.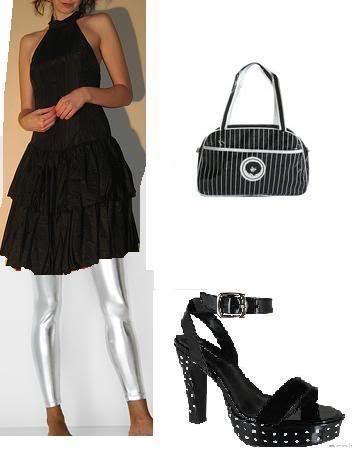 This is exactly what I would wear to prom if I was going. I find it perfect.
Dress: Ebay (I refuse to mention the shop because I have a strong desire to buy it and hope that I find something to wear it to eventually)
Leggings: American Apparel (I know a lot of people hate these, but I think they can look smashing when worn correctly)
Shoes: Gojane.com
Bag: Asiajam.com



This one's definately more of a head-turner. I love the clashing patterns. If you're really into standing out, I would reccomend adding a black pillbox hat with a veil to the ensemble. Tres chic!
Dress: Asiajam.com
Leggings: Target
Boots: Gojane.com
Clutch: Macy's

Oh, le sigh...