Lulu's Fashion Lounge is an online boutique of sorts that I have known about for a long time. I have to admit that I was never really all that impressed with the merchandise they had to offer. Well, folks, the tides have changed. I visited the site today for the first time in months, and, lo and behold, there was a fantastic selection of shoes and accessories. I wasn't thrilled with the clothing choices, but the shoes and accessories were dead on, especially the shoes. Not only are most of them extremely cute, but they also have a huge under-$50 section. Can you say score?Still, there were two pairs of shoes that stood out, shoes that unfortunately lie outside of my price range. Look how pretty: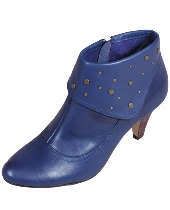 Oh. My. God. I am in love with these boots. They are such a rich, unusual (for boots) blue and I really like the unique touch that the little metal studs add. I'm a size 8US, hint, hint...Pretty please with a cherry on top...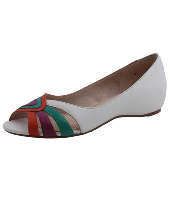 I remember coveting these flats (or maybe very similar ones) at Urban Outfitters. So unique and fun! I love them maybe a little too much.

Anyways, those are the lust-worthy, out-of-budget items of the day. So sadly, I didn't buy them. I did unpocket the cash for a pair of plain red flats (just those junky Mary Janes you can buy in any Chinatown, but I'm a sucker for any shoes with a $6.00 price tag), a cute strawberry printed headband with a bow, and the bag that is shown below. Sweet, isn't it? I think I will be very happy with my purchases, even if those blue boots and white flats aren't among them.