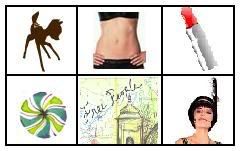 1) Sign up to be notified when the Gentle Fawn online store is launched this June. The first 250 people to sign up get a limited edition t-shirt. The next 250 people to sign up get a fawn rhinestone pin. Everyone who signs up gets a preview copy of the Gentle Fawn catalog, specials, and deals.

2) Read about the dangers of the "model diet" as an average woman tries to get down to a size zero.

3) Play online dress-up. Yes, it's childish, but it can be kind of fun. And it's completely free, which is a major plus.

4) Sign up for the Daily Candy newsletter.

5) Join the Free People craft swap. It's not too late!

6) Make flapper style your own.