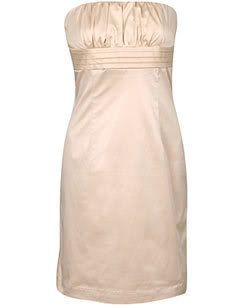 This nude sateen tube dress from Forever 21 (I seem to have an unhealthy obsession with this store) is a thing of beauty. My first thought upon seeing it was that it reminded me of "the naked dress" from Sex and the City (another one of my possibly unhealthy obsessions). My second was "Oh dear God, I must have this."

Before I purchase any item of clothing, I like to think about how it will fit into my wardrobe. Do I have accesssories and such that will go with it? Is it appropriate for events that I attend regularly? Will I feel comfortable enough in it to wear it often? I immediately asked myself these questions about the nude dress, came up with positive answers, and found myself bewildered by the possibilities.

I have come to the conclusion that the little nude dress should be a wardrobe staple. It can be dressed up or down, is very flattering, and is almost always appropriate. Forever 21 is actually a LND paradise, because it carries plenty of matching shoes and accessories. To illustrate the versatility of the LND, as well as the abundance of Forever 21 (I will prove to you the awesomeness of this store if it kills me), I put together a few outfits: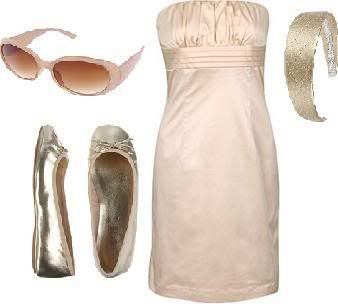 This look can be worn almost anywhere. It's perfect for a shopping trip, a night out, or even a wedding. Buy all the pieces from Forever 21.





I put together this look with a day at the office in mind, but it can really be worn anywhere (such is the beauty of the LND.) Buy it all at Forever 21.






Okay, I admit it, I cheated on this look. Not everything is from Forever 21. But I found the shoes at Macy's and fell in love. Gorgeous, no? And then I figured that as long as I was already cheating with the shoes, I might as well throw in a bag from Urban Outfitters. But the necklace and the dress are both Forever 21. This is definitely more of an evening look.

The third look is about the point when I started to get enormously excited. I was web-surfing like a maniac and finding all sorts of stunning things in tans and golds and beiges. Seriously, people, accessories for the LND can be found everywhere! There are plenty of options! So you have no excuse not to exult in your nude-ness. No excuse at all! (I am aware that I sound as if I am promoting nakedness. And by all means, go naked if you want to. But I think you all know that I was talking more along the lines of nude colors,)

------------

I'd also like to add that I just noticed a sale at Alloy. Until 4/30 (that's today), you can use the code SAVE15A to get 15% off your order. Woohoo!