Not too long ago, I received an email from Jumeau bags offering me two free bags to review. I responded with excitement. Jumeau has four collections in the Fall/Winter '07 line - the Institution Collection, the Now Collection, the Commando Collection, and the Green Collection. I was especially drawn by the Green Collection, because although it feels a little out of my means to always buy green, a bag "focusing on natural materials such as organic cotton, bamboo and natural dyes" seemed right up my alley.

So I picked the Keri bag from the Green Collection, opting for a cool blue acid wash color.

The second bag I picked out was never delivered (I don't know what's going on with that), so I'm not going to talk about it.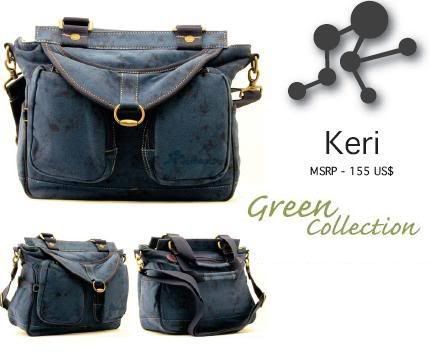 Anyway, here are my thoughts on the Keri bag:
I like it. It's not exactly my taste (as in I would probably not pick it out in a store), but I'm kind of enamoured with the dark acid wash effect. I gave it a test run today on a trip to Old Navy (more on that later), and found it very satisfactory. The bag is extraordinarily roomy, with plenty of handy pockets. The strap is comfortable, and doesn't slip from my shoulder the way the straps on other bags tend to. The fabric is quite sturdy, and I can tell that the bag is extremely well made. It will last for a long time, let me tell you that.
My only complaint is that the bag is on the heavy side. It's large enough to hold a ton of stuff, but I find myself avoiding filling it up because any extra weight will result in some shoulder discomfort.
But maybe I'm just a wimp.
Anyway, the bottom line is that I'm happy with my Jumeau bag. For more information, take a look at the Jumeau bags workbook, or got to http://www.jumeaubags.com/.