I have something to admit. I've been lusting over (cringe) loafers. Before you write me off as someone with bad taste in footwear, I'd like to point out that pretty, feminine, candy-colored loafers are the ones catching my eye. Loafers like these:

1. Bianca sailor girl suede shoes, $49.90 ♥ 2. Isaac Mizrahi silver driving moccasins, $20.99 ♥ 3. Charlotte Russe heart loafers, $18.99 ♥ 4. Hot pink vintage loafers, $28.00
Of course, I can't help but adore the more expensive blue suede ones, but they sadly aren't available in my size. However, the cheep Charlotte Russe ones are awful cute. I'm loving the chains with the little hearts!
So, what do you think? Can loafers be a "fashion do" after all?
Teen Vogue seems to think so: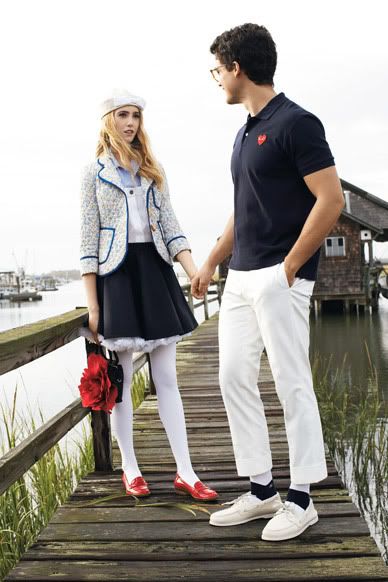 Note to self: Pair loafers with white tights and a sweetly whimsical ensemble. Cute preppy boy optional.
Hehe, I feel fashion savvy. I may need to place an order at Charlotte Russe ASAP, because I've been house-bound with a nasty virus and am feeling woefully in need of something cheer-inducing.