Hello, hello, hello! I'm back from NYC!

Victorya Hong's show was an interesting first experience at fashion week.

My friend Monisha, who accompanied me, and I got all dolled up and ready. Here you can see us posing with the world's smartest (and cutest) four-year-old, who didn't come with us to the show. He wanted to, though.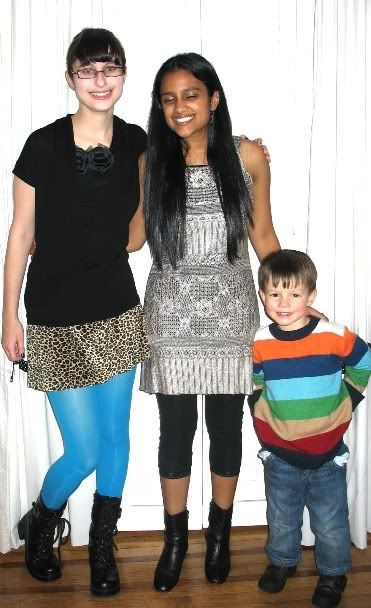 The detailing on my shirt (as well as the length of my legs) is kind of lost in the picture, but you can see the beauty of Monisha's dress, which she found in her mother's closet and cut to a short length. You can also see our intense excitement!
We braved the NYC subway and the torrential rain to make it to the Altman building, where the show was taking place. We checked in, and the man at the desk told me there wasn't a seat for me (or Monisha.) I was a little annoyed about that. I mean, I realize I'm an 18-year-old with barely any presence in the fashion world, but when I'm invited to something, I expect to be provided with a seat at the very least. I don't know if that's standard or not, though, and a lot of other people were seatless. Monisha and I managed to snag two back row seats just as the show began.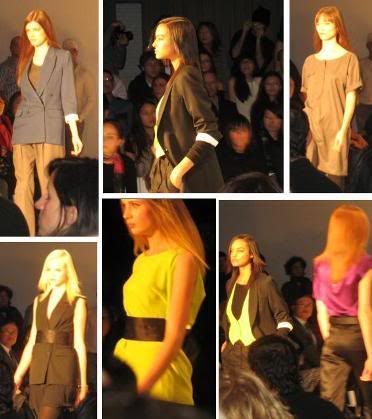 Our distance from the runway resulted in kind of crappy pictures, but you can get the idea.
I really liked Victorya's collection. You could see a lot of menswear inspiration, but the clothes were still inherently feminine. They looked loosely fitted, comfortable, and easy to wear, which is something I prize in clothing. Most of the looks would be appropriate for a day at the office, a shopping trip, or even a night out. Very, very wearable.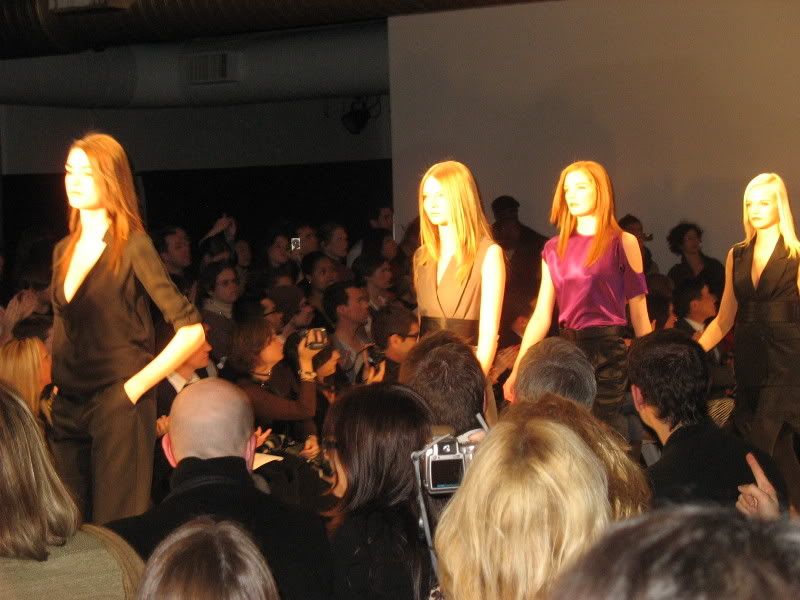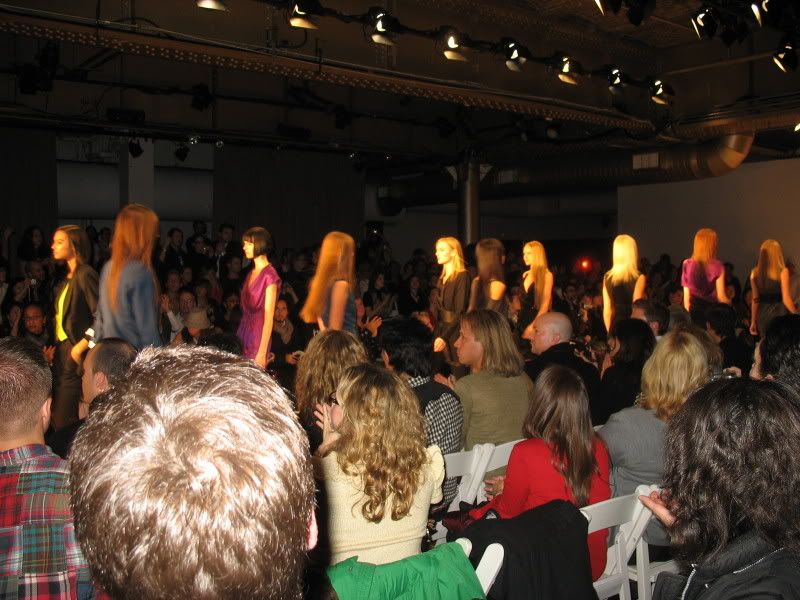 Judging by the enthusiastic applause as Victorya poked her head (bearing a sweetly ecstatic grin) out at the end of the show, I'd say a lot of the crowd shared my opinions about the clothes.
As everyone stood up to leave, I looked frantically around for Susie Bubble and failed to find her. I had so been looking foward to meeting her, so this was a huge disappointment. Sightings of Christian (from the current season of Project Runway) and Jay (the winner of a previous season) managed to cheer me up a bit, as did a glossy black goody bag that I collected from an abandoned seat in the front row. Was this appropriate fashion show etiquette? I don't know. But it was just going to be thrown away, and I wanted it. So there.
We went off to a restaurant to kill sometime before the afterparty, but my Chronic Fatigue decided to hit full force at that point, and it was the least I could do to drag myself to the subway and catch a ride home.
The next day was spent visiting with family and walking around Soho. I have decided that I want to live in an Anna Sui boutique someday. It was love.
Forgive me if there are any misspellings in this post. My spell check stopped working and I'm too exhausted to think straight.