Aah, it feels good to be back in the blog loop. As I sift through the 1000+ posts awaiting me on my Google Reader (I think my homework is in danger), I am slowly getting back in that comfortable place where I know what's going on in the fashion world and blogosphere.

One of the wonderful posts that awaited me when I arrived home last night was Gala Darling's ode to the "Neogoth" look. It made me want to play with some of the elements of the look. The ideas that interested me the most were:

"Neogoth is about texture. Wool, silk, lace & leather. Wood, plastic & lacquer. Without texture there is no neogoth — just someone wearing lots of darkly-hued clothing. Some people wear black to hide themselves away, minimise themselves, appear invisible. Neogoth is about doing the opposite: making a statement, dressing it up, putting in an effort & looking fabulous."

"Colleen of Panic Industry coined the phrase "poisoned femininity" to describe a lot of what she sees on the catwalk at the moment, & I think that is worth incorporating into the whole neogoth thing. It's not just clothing, it's about feelings & mood. It's about playing up the elements of mystery, drama & intrigue. It's about being delicate with a dark edge, being unexpected & a little sick around the edges. Kind of like that broken dolly thing from the 90's, just more grown-up. "

I'm throwing away the "uber-modern" bit and adding a bit of a fairytale edge, so I don't know where that takes me. Into the realms of "normal goth," perhaps? Into a completely different area of style? I neither know nor care.

But I was inspired, and I experimented.

Note: I had some fun with this photo shoot.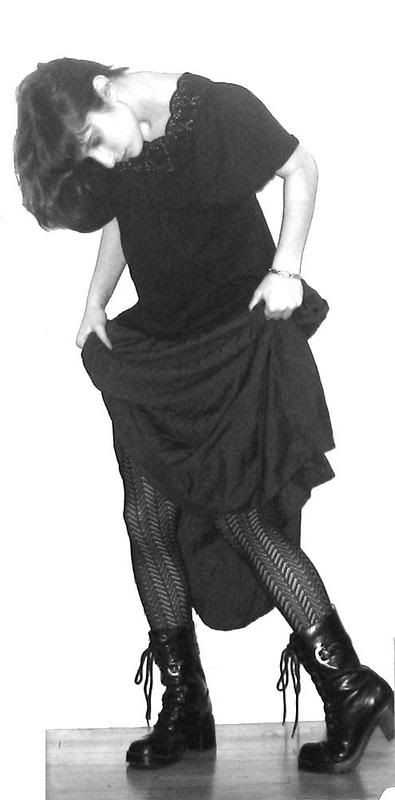 I took the "mystery, drama, and intrigue" bit to heart, and kept texture in mind. The first look was all black, with a velvet skirt worn as a dress over a top that draped rosettes over the front. The second look involved a black top and deep, wine-colored skirt.
I think my pale skin and dark hair lend themselves to this style, but anyone could rock it.
I also think it made me feel pretty great. Maybe I'll let my dark side shine through a bit more in the future.