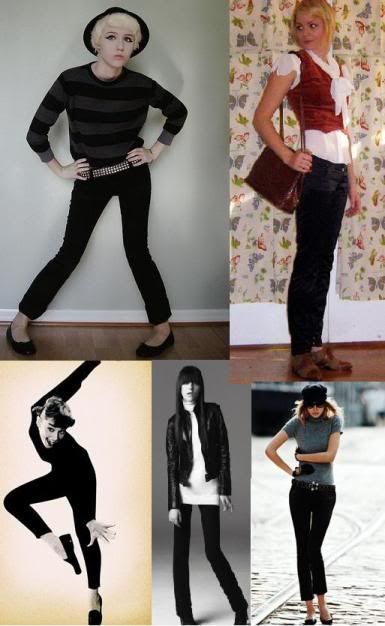 Clockwise from top right: Lisa aka geliebt, Amber of Painfully Hip, Cosmopolitan's Tough Love editorial, Gap clothing, Audrey Hepburn in Funny Face

Having resolved to up the ante with my wardrobe in 2008, I have decided that black cigarette pants are a basic item I need to have in my closet. Classic, classy, and amazingly versatile (just see the above pictures), they can be worn anywhere from a classroom to a rock concert to a fancy dinner. They can look chic, androgynous, or tough; cute, casual, or sophisticated. They add polish to any look. Every fashionista should have a pair, and now that I'm writing this, I can't believe I haven't bought some yet!

You know me. I'll be on the lookout. Fit is everything.