Is there really a better way to relax at the end of a long week than to experiment with clothing? I think not. That's why I took out my chic-yet-not-all-that-special blue dress and played with the styling this afternoon. At first I paired it with little jackets, colored tights, and that kind of thing, but I was unsatisfied. I wanted to give it the "oomph" it was clearly lacking. So I knotted the two sides of the skirt in front, tied the sleeves with ribbons, and ended up with a dress style I'd like to dub "Grecian sexy." I'm not so sure I'd feel comfortable wearing it out like this, but I see a lot of potential with layering tights or leggings underneath. I'd also like to try pairing it with a blazer and top to get something similar to this Chanel couture look: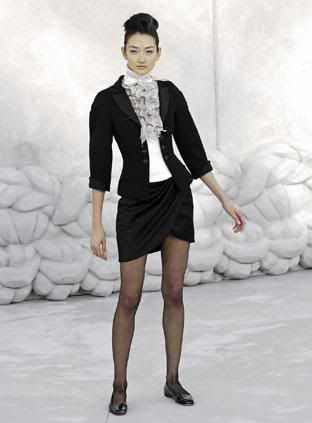 Although I'd probably pair the look with my beat-up motorcycle boots. Something about the Chanel flats seems awkward, don't you agree?
Then again, who am I to question Mr. Lagerfeld?