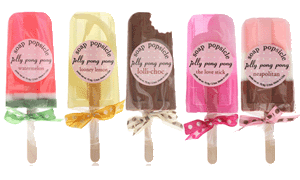 Jelly Pong Pong has been on my radar for a long time. As beauty lines go, it has such a great whimsical quality. I'm not very into beauty products, so unless I'm buying something boring yet necessary (like concealer), a product has to be really special for me to bother springing for it.
Enter Jelly Pong Pong.
With products ranging from popsicle-shaped soaps to shoe-printed lip and eye kits to eyeshadow in the form of pearls, this is no ordinary beauty line.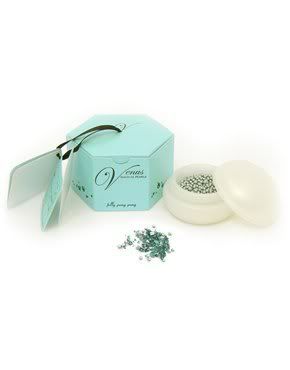 A while ago, I bought Venus Magical Pearls from the Fabled Dreams and Beautiful Things collection. To get one color of eye shadow, you sweep your finger accross the surface of a pearl. To get another color, you crush the pearl and use the powder inside. It's an innovative, fantastical (is that a word?) makeup, and I feel special every time I use it. The box it comes in is beautiful too, and it's enscribed with a poem:
She rises from the sea, foams of bubbles at her feet
And floats towards the sands ; And breathes a breath so sweet,
Her dress of pure incandescence, glows of blue and pearl
She lays siege to my heart, here this woman-girl
She is radiant, fearless, luminous
I am silent with awe, I am breathless
For she is Venus in all her glory
A beautiful goddess, a goddess immortal
My magnificent deity
Pretty, huh? After my experience with the pearls, I've been dying to try some more Jelly Pong Pong products!
By the way, if you plan to purchase some for yourself, don't order them through the Jelly Pong Pong website unless you live in Asia. I accidentally ordered from them once, only to recieve an email from one of their employees warning me of the astronomical shipping costs from Malaysia. Try ASOS instead.