Sorry to start another post off with a mention of TLC, but...

Last night I was flipping channels, and I stopped to catch a minute of What Not to Wear. I watched, mouth agape in horror, as Stacy and Clinton ridiculed some poor woman in front of all of her friends. The ridiculing was standard for WNTW, but I was aghast at the reason for the ridicule. Apparently Stacy/Clinton found the woman's dress - one of those Mexican tent dresses we've been seeing all over the place - to be appallingly ugly and unstylish. And you know what? I thought the dress was great. I would've worn it in a second. In fact, I've seen numerous stylish women pull it off. So why was a room full of people pointing and laughing at it as the dress's owner timidly admitted it was her favorite dress?

Clearly, style is in the eye of the beholder. I realize this isn't a new concept, but it's something a true fashionista always needs to keep in mind. I think the WNTW crew was being awfully close-minded, which I find unforgivable. The only problem with the woman's dress was her attitude and styling. She could have used a hair cut and some makeup tips. Possibly the dress needed to be taken in a bit, or cinched with a belt, and paired with some bright shoes. And a little attitude wouldn't have hurt either; it seemed like the dress was "wearing her." But to dismiss the dress as unwearable? How boring and uncreative is that?

I think it's important to remember to see the potential in clothing, especially if you're trying to build a unique look on a small budget. I wouldn't buy a designer dress if I thought it was hideous, but I see no problem in scooping up some not-so-great thrift store or Forever 21 dresses and trying to doctor them up. The best, most exciting outfits can come from something boring or unremarkable.

For example: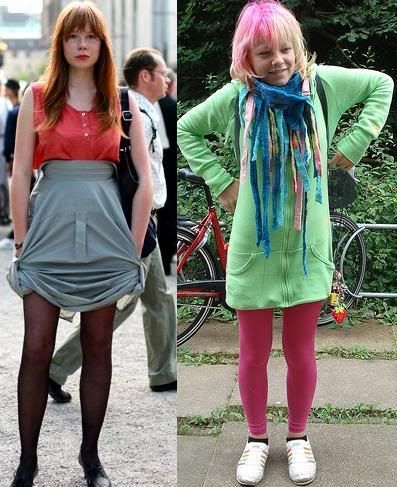 The girl on the left made her skirt from her father's shirt! And she looks like a million bucks, no? I bet that a ton of women would pay to have a skirt like that. And the girl on the right made her scarf from what looks like a piece of fabric, and it's now the statement piece in her outfit. They both are unapologetically confident in their looks, which helps them pull it off.

Stacy and Clinton wouldn't approve. But I do.