Oh, joyous rhyming title, how you make my heart sing!

But on to some complaining...

I am very frustrated with Newport News. I ordered a swimsuit from their website in mid June, and it never came. Granted, it was on backorder, but I'm still annoyed. I recieved a message saying that it might take a month to arrive instead of the promised two weeks, and then about a week ago I recieved a message saying that the supplier had stopped making the swimsuit. Grrr. I'm pretty sure this was a one-time thing, but I would encourage you never to order something on backorder from Newport News.

That said, I think they've really gotten some nice shoes in for fall...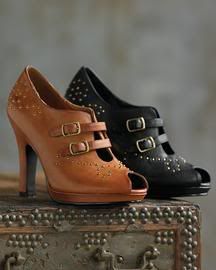 I usually find peep-toe booties to be kind of...well....dumb, because why on Earth would you want your toes to be unprotected in cold weather? But I love these ones. It would be worth it to wear them with thick knee socks and just suck it up (or sock it up...gotta love those bad puns...), especially since they're only $25.



These are the perfect high-heeled oxfords (so hot right now)...if you can walk in them. Which I can't. But I can still admire their beauty from a distance. $29.99.



Yet another ankle breaker, but still so wonderful. These remind me of the Olsen twins' shoe choices. And at $39.99, they're a good deal.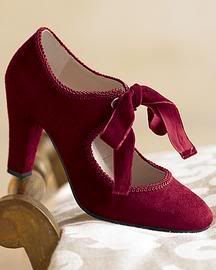 I would never wear these, but I'm loving the fact that they look like they just soared in from the past. I'm not really well-educated in terms of historical fashion choices, but I could picture these on the feet of some Victorian Lady, or perhaps Marie Antoinette. The right person could totally pull these off. $29.



Last but not least, these shoes are fierce. I don't usually like snakeskin, but the black and gold is so nice here. They would be fantastic with black tights. $34.

If I could walk in any of these shoes, I would be reaching for my credit card and giving Newport News a second chance. Sadly, my klutzy nature seems to be permanent.