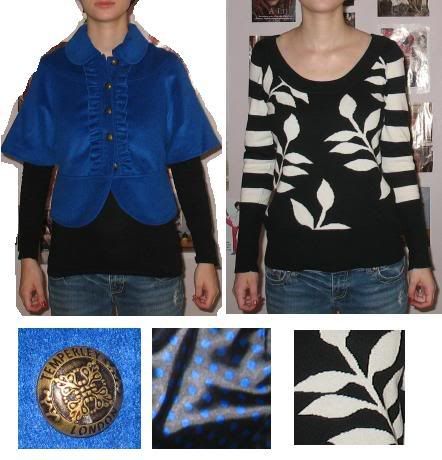 Today I went to Kohl's to check out Simply Vera, and then to Target to see if Alice Temperly's line had hit stores yet. Like many others, I wasn't impressed with Vera's collection. The fabrics were just icky and the quality was clearly poor. I couldn't bring myself to try on any of the clothing, but I slipped on a pair of flats and found them to be stiff, cheap, and uncomfortable. And that was that. I spent about 10 minutes in Kohl's and felt like it was a waste of time.

Target was another story. A somewhat picked-over Alice Temperly collection was in the store, and I loved almost everything! Usually the Go collections aren't very nice in person, but this was an exception. After heart brokenly figuring out that a gorgeous ruffled grey Temperly dress was no longer available in my size, I loaded several items of clothing into my arms and tried them on. I ended up with the above blue jacket and sweater. The jacket has some really nice details, like the buttons, polka-dot lining, and ruffles, and I love the cape-like shape of the sleeves. Very ladylike, I think. It's not quite as blue as is appears in the photo, and I wouldn't normally wear it over a black shirt like that. I also picked up a cute printed sweater. It's very comfortable, and the cut is very flattering around the neck.

All in all, I'm a pretty happy camper. I'll have to check back to see if my local store gets more of that dress in, though. I recommend the collection - go check it out!