I'm off to upstate NY early tomorrow morning, and I'll be back on Monday. I'm not expecting to find internet access, so no posts tomorrow.

I have a question for all my stylish readers, so I guess I'll leave you with it.

First of all, you should know that my brain immediately went to that what-do-I-wear place after registering for Teen Vogue's Fashion U. It made me realize that my shoe wardrobe is pitifully inadequite for this kind of event. My only comfortable shoes are my three pairs of Chuck Taylor All Stars. I have a few other pairs of shoes, but they are cheap and uncomfortable. I can almost hear you gasping in horror right now. But yes, I must admit that my shoe wardrobe is just sad. It's easy to pick up a ton of cheap dresses and still feel comfortable, but cheap shoes? Not so much. I think it's time to invest in a pair that costs more than $20. I want a beautiful, comfortable pair of shoes. I think my limit price-wise is about $70, since I'm kinda broke, but I think I can do a lot with that. I want to order online, which is always risky, since you can't try them on first, and I want to avoid huge Zappos-type websites that are just overwhelming. So, my question to you is this: Where can I find cute, comfortable shoes online for $70 or under? Any specific pairs you'd suggest? Be a doll and help me out. Please and thank you!

I don't know about comfortable, but I do know about beautiful. Ideally, I'd sport these: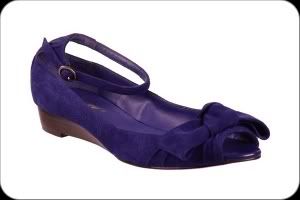 They have a very low heel that I know I could walk around the city in (which is very important) and are this rich, gorgeous purple. I've definitely been feeling purple lately. Not just any purple, but the kind of deep purple that evokes mystery and luxury. So these, if they were comfortable (and I have no idea as to their comfort level), would be excellent.

Oh, I don't know. See you all Monday!